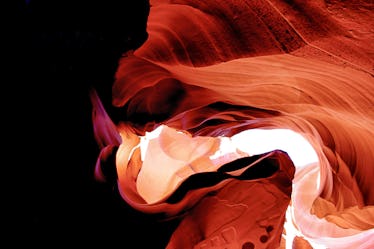 These Colorful Caves In Arizona Need To Be On Your 20s Bucket List
Benjamin/Fotolia
If you're an adventurer, you've probably spent a lot of time daydreaming about your bucket list. Your passport has too many stamps to count, and you'd love to just travel forever and ever. Hopping on planes every other week doesn't phase you one bit, and you actually feel a bit calmer when you're surrounding yourself with the unknown and the unreal. One day, you'll freely follow all your wanderlust and see the whole world. That sounds so ambitious, but you have so much energy for experience. For now, set your sights on Antelope Canyon in Arizona if you're looking to live in your dreams instead of just seeing them in your sleep.
If you're an avid stargazer, you've probably already heard of all the possibilities of Sedona, or thought about venturing out to this side of the states to see the night sky. The West Coast is filled with natural wonders, and you could spend weeks on end wandering through all the national parks.
Antelope Canyon will speak to your soul and give your eyes quite the experience, too. The science behind this place is that it was entirely formed by water, and is considered to be a "slot canyon." Essentially, the flash floods in the area have over time built this beautiful cave, and when the sunlight comes in it's oh-so-saturated like a sunset (or the Super Blue Blood Moon. Throwback to that stunning sight.)
The canyon sits in the Navajo Tribal Park in Page, Arizona, and can only be reached through a guided tour. Spend some change and don't sleep on this dreamy spot. It needs to be on your bucket list, and here are a few reasons why.