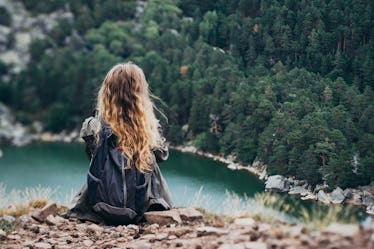 5 Most Adventurous Places Every Sagittarius Should Travel To Solo Before 25
Javier Pardina/Stocksy
Adventure is out there. This year, I made it my New Year's resolution to travel more. Ever since I studied abroad, my wanderlust has been absolutely unreal, and my mind just spends hours wondering what it's like in other places around the world. I've been on some road trips and took off to tropical places for a little rest and relaxation last summer, but I need so much more. You can call it selfish or way too eager — or you could just own it up to the fact that I'm a Sagittarius (borderline Scorpio). This planet is full of adventurous places to travel to, and I hope your bucket list is just as extensive as mine. You don't necessarily need to have a certain star sign to be totally in love with traveling — just a passport and a lot of passion will do.
Pack your bags, but maybe skip out on a suitcase. The most extraordinary adventures call for a light load, and you'll want to save some room for sneakers and a solid camera. Maybe you've thought about taking a month to live in another land or backpack around Europe. Or maybe you're just setting to one super exotic place on spring break.
If you're a Sagittarius, you've probably already scored some stamps this year. After all, you're known to love your freedom, and diving head-first into culture and chaos alike. But, leave a little room in your budget for one of these adventurous spots that will speak to your wandering soul.