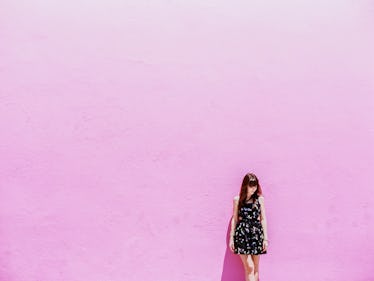 7 Cool Walls In Los Angeles To Take Pics In Front Of, If Your Insta Needs Inspo
Daniel Kim Photography/Stocksy
It doesn't get much cooler than this. Los Angeles is known as the City of Angels , and it's oh-so-filled with creative people and places that are waiting for you. When I think of California, I tend to picture lots of sun and surf, maybe some skateboards, and road trips along the Pacific Coast Highway. Every day seems to be like summer, and there's unlimited amounts of inspiration wherever you go. The cities are bursting with opportunity and locations for sitcoms, and the cool walls in Los Angeles, in particular, are asking to be all over social media. So, what are we really waiting for?
If you're a local in this city, the most Instagrammable spots are probably not too new to you. You might have already strolled down the streets that are known for their aesthetically-pleasing places and experienced them firsthand. These walls could totally cure your wanderlust without even having to go too far.
But, if you're heading to L.A. for the first time you might want put something a little picturesque into your travel list. Truth is, you don't have to be a fashion or lifestyle blogger for your soul to be totally sparked by these backdrops. Sure, you might need to scroll through the feeds of your favorite photographers to get some inspo for poses. But, these seven walls will do the rest of the work for you and bring something seriously golden to your 'gram.