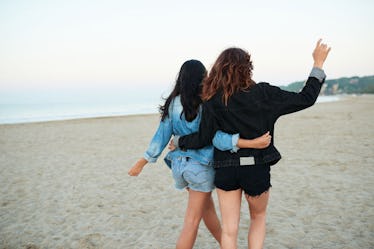 7 Kinds Of People To Keep Close In Your 20s, Because They Just Make Life Way Better
Life is only as good as you make it, and a lot of it depends on who you decide to keep by your side. There are the friends and family members who have been there since day one, and the besties you haven't even met yet. But, among your bunch, there are a few kind of people who will just upgrade your life in ways you never thought were possible. They're the supportive ones, the dreamers, and the ones who inspire you on the reg. Those are the kinds of people to keep close in your 20s. Just hear me out, OK?
Especially in your 20s, you don't want to go through life's adventures and curveballs alone. You want to have those friends and people surrounding you who help you learn crucial lessons about love, and lift you up when you're feeling down. You'll be facing your first "adult" job, and attempting to navigate new cities. Even trying a new coffee shop for the first time is something that should require a sidekick. It's truly such an exciting time — but the people make it so much better.
The people you should keep close are the ones who will be there for every memory that needs to be made, and add to your life in unexpected ways. Each one will change your perspective and mindset, making you an unstoppable person to be around, too. These seven kinds of people you should keep super close. To be honest, they'll just make life sweeter.