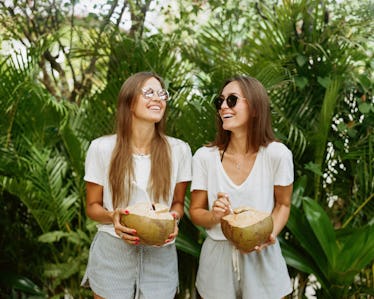 The 8 Types Of Friends Who Will Give Your Summer Travels A Major Upgrade
Summer break is better with besties, but you're so tired of the same 'ole scene. You'll head down to the beaches, or maybe take a sweet dip in the lake and sip on some lemonade. But, adventure is out there, right? It's time you take advantage of everything this world has to offer. You could travel solo and have the experience of a lifetime, or you could bring a bud along and share those memories with someone you love. After all, your girl crew is always down for some good times, and you need to get a few solid pictures for the 'Gram. There are certain types of friends to travel with this summer to seriously upgrade your break. So, make sure you pick a person who fits the criteria — and owns a passport.
Whether you're taking a road trip across the country, or hopping on a plane to a tropical getaway, you'll want someone by your side who's ready to travel. Personally, I can't imagine not having that constant desire to head to new destinations. But, there are friends in our crews who are perfectly comfortable at home and might not want to do some sightseeing.
Although that's totally OK, that's not the type of friend you want when you're following your wanderlust. Instead, you'll want to find the girl who just can't get enough of the world, or studied abroad. These eight types of people will truly make for the best buds for all of your summer travels.