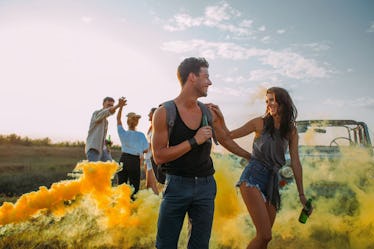 7 Things You'd Only Do For Your Guy Best Friend, Because He's The Real Deal
Personally, I've done some pretty ridiculous things for my friends. I would have to believe that staying up late on FaceTime, and helping my besties finish a plate of French fries sort of counts in that category. If so, then I'm truly the MVP of putting life's nonsense aside and doing what's best for my BFF. Odds are, you've agreed to being the third wheel, or gone to new levels on the 'Gram for at least one of your girls. The things you do for your guy best friend is totally different, though. He's an irreplaceable person in your life, and your relationship is unlike one you have with anyone else.
He's basically like a brother to you. When some guy ghosted you, he was the first one to tell you that you deserve a lot better. But, he also taught you how to be tough and handle any mess that may come your way. He would cheer you on from the sidelines of life, and has never caused pettiness when it comes to making plans, unlike some of the ladies you love in your life. Truth is, your main guy just doesn't do drama, and he'd rather be a laughing and smiling light in your life a majority of the time.
Throughout the years, you've grown up together, and had your heart-to-hearts. You've may have helped him conquer laundry in college, or taught him some trick when it came to dating. These seven things you'd do for him, and no one else (TBH).