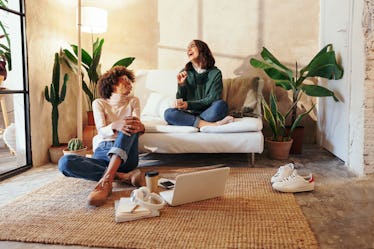 7 Traditions To Start With Your First College Roomie, So That You're Bonded Forever
College is right around the corner. You've had a countdown going on your phone since graduation, and can't stop daydreaming about living your best life on campus. You'll make lots of new friends, and scope out the best coffee shops. Not to mention, you get to decorate your dorm and have a roommate for the first time. You're really hoping that you two become besties, and stick together beyond these four years. These traditions to start with your first college roommate will be necessary, so that you're bonded forever and ever.
Before you went off to college, you probably were a little nervous. You spent your summer prepping for the semester and hanging with your besties from your hometown. You wondered what life would be like without them around all the time. After all, they've been there since day one, when you were sharing your Oreos at the lunch table. Is it possible to recreate such a strong bond with your first roommate? The answer is yes.
At first, you may feel a bit awkward, but you and your roomie will likely be the best of friends soon enough. You'll watch some of the same television shows, and rant about your professors. Navigating college isn't always easy, and you'll love seeing her familiar face from the other side of the quad. You may consider starting some of these traditions, to truly seal the friendship deal. You want her to be in your life forever, and not just four years.