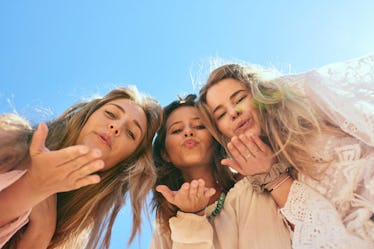 7 Traditions To Start With Your Hometown Friends The Summer Before College
High school is officially over, which means you're living your best life with your friends from home before heading off to college. Maybe you and your bestie are lucky enough to be roommates for freshmen year, or you could be going off to totally opposite corners of the country. She's studying art during a semester abroad, and you're excited to start a new chapter of your life on the West Coast. Where did all the time and memories go? There are some traditions to start with your hometown friends this summer, before you truly take off on this next adventure.
You'll likely never go a day or two without talking to your best friend from home. After all, she's been there since day one. So, you can't really imagine not telling her about your first weekend out on the town, or how you're going to join a sorority. You've been excited to meet new people, and the girls in your hall are quickly becoming friends you'll have forever. But, that doesn't mean you've forgotten about the all those moments with your main squeeze the past four years or so.
In fact, you're going to tell all of your new friends those stories from the summer and graduation, even though they won't totally understand. These seven traditions will make sure you're staying close before college, and will continue for years to come.