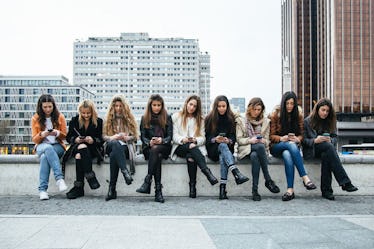 These Are The Brutally Honest Phases Of Trying To Make Plans With A Big Friend Group
Summer means lots of time spent with your girl crew. You'll likely take a trip, even if it's just for the weekend, and hit up the local spots on a Saturday night. If you're all working, then you'll meet up for happy hours when the day is done and email during the day with summer getaway ideas. But, it's not always as easy as emojis and saying, "Be right there!" To be honest, trying to make plans with a big friend group is such a struggle, and you really have no choice but to go with the flow.
Everybody means well when they're trying to make plans, but it's never as simple as picking a time and place. When your friend group is gigantic, there are so many schedules to coordinate, and then you have to count on the fact that Lindsey will likely be late. You need time to curl your hair, but what if you guys ended up ordering takeout instead? It's a mess.
You try and keep up with the group chat, but the second you look away, you've missed out on a thousand memes and a game plan that's buried amongst them. The red notification bubble reads in the hundreds, and you have at least one missed FaceTime call from a friend. These are the 10 phases you definitely go through when you're trying to make plans with a big friend group. Thank goodness, you're always down for pizza and a movie.