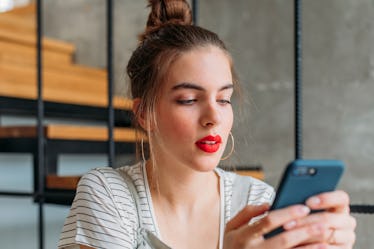 The Best Ways To Cancel Plans With Your Friend Via Text, So They Know You're Legit
Let's be honest: Our besties just make our days so much better. Whether we met them at work, shared a space in college, or have known them since day one, we don't want to imagine what life looks like without our friends hanging around. They're our reliable shoulders to cry on, and the ones who are always down for a spontaneous adventure. We love hanging out with them, so it's awful to have to bail on plans, especially last-minute. Even the most casual coffee date can cause some awkward vibes when it's canceled by someone in your crew. So, it's understandable that you might stress out over how to cancel plans with a friend over text. But it's actually quite easy if you follow a few steps.
You know how it feels to get canceled on, and don't want to put your best friend in that same place. Maybe something came up last-minute, or you just can't hang today. Being honest and staying true to yourself and how you feel is important, too. Odds are, your bestie knows you well enough that she'll be disappointed, but also understanding. Life happens, and sometimes the unexpected gets in the way of our weekends.
Like any relationship you have, it's all about communication and spending time together. Find a balance of both. Elite Daily reached out to LeslieBeth Wish, Ed. D., noted psychotherapist, author of Smart Relationships, and founder of www.lovevictory.com, for her insight on how to cancel plans with a friend over text, and she responded with seven steps we can all follow.
This article was originally published on