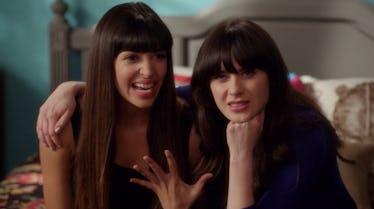 These Jess & Cece Moments From 'New Girl' Will Make You & Your BFF Say "Same"
FOX/Netflix
Best friends forever. Thank goodness for our gal pals — especially the ones who have been there since day one. There's nothing like having someone you can count on for absolutely anything, and a person who's totally your partner in crime. They come along for your wildest ideas, like couple's cruises and tours around your hometown in Oregon, and remind you of all those moments from your awkward phase you've been trying so hard to forget. These Jess and Cece moments from New Girl are oh-so-relatable for you and your BFFs — and will make you want to call up your crew to make some new memories immediately.
Every sitcom has at least one dynamic duo. For Friends it was Chandler and Joey, or Rachel and Monica. And in The Office it was Jim and Pam, or even Dwight and Michael — although that might be a little one-sided. Truth is, we love watching these shows simply for their amazing friendships and all of the adventures that come with being besties. It doesn't quite matter where it takes place, as long as we get a few good laughs and can say "same" at the end of the episode.
Some might say that the best friendship in New Girl is Nick and Schmidt's, or Winston and Ferguson's. Sure, we can totally relate to splitting a bowl of pasta with our pets, or eating dry Ramen in dorm rooms. But, there are some experiences you'll only ever have with your girls — and these six moments have us reliving all our own adventures and appreciating them a little bit more.