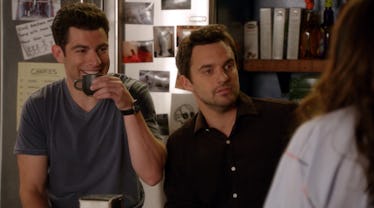 7 Schmidt & Nick Moments From 'New Girl' All BFFs Can Appreciate
FOX/Netflix
What would we do without our besties? Being 20-something means we've made a lot of memories by now. We've had our adventures, and are a little bit more interesting because we finally have some stories to tell that aren't interrupted by the awkwardness of puberty. Our best friends have been there through it all with us — the road trips, the reckless nights, and the rent bills because now that we're all grown up that's totally a thing. Sure, not every day is as crazy and awesome as loft life, but the best Schmidt and Nick moments from New Girl remind us why we appreciate our besties so much.
Oh, Schmidt and Nick are quite the characters. The friend crew wouldn't quite be the same without their respective qualities. On one hand there's Nick, a bum-turned-successful bar owner with big dreams to write a book about zombies. He's careless when it comes to his own life, but cares about his friends and family more than anyone else in the crew — even if he has a weird way of showing it.
On the other hand, there's Schmidt. He's a successful socialite wannabe with a full dictionary of weird words that you won't want to miss. His personality can sometimes come on a little strong, but there's nobody quite as good at being a loving boyfriend or ridiculous best friend as him. (And wouldn't we all love a loft mate who loves to clean like that?)
Together they're two peas in a pod, and we wish we could be a part of their fun friendship. But in the meantime, let's remember why our own BFFs are truly the best, thanks to these seven Schmidt and Nick moments in New Girl.