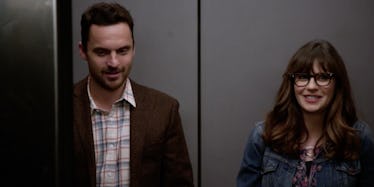 5 Things We're Dying To See Happen In The Final Season Of 'New Girl'
Fox
After six (soon to be seven) years watching all the jokes, dysfunction and love that took place in that ridiculously spacious loft, it's time to say goodbye to "New Girl."
But before they play their last round of True American, Jess, Nick, Winston, Schmidt and Cece have one more run of stories to tell.
Fox just officially renewed "New Girl" for its seventh and final season, so expect things to get pretty emotional as everything wraps up at the end of this upcoming season.
Before we're launched back into the loft life, let's go over some of the storylines we'd love to see play out in the show's last season:
1. Cece and Schmidt as parents
The previous sixth season of "New Girl" was a transformative one for Cece and Schmidt, who got married and moved out of the loft into their own home. And in the finale, we found out Cece is pregnant!
Unless there's a "Parks & Rec"-style time jump between Season 6 and 7, it's most likely we'll be seeing Cece navigating her pregnancy and getting ready for the first "New Girl" baby in the new season, but there's also a chance fans will actually get to see Cece and Schmidt as parents before the show ends.
It seems like Cece giving birth would be a great way to end the series... I'm smelling finale!
2. Winston reconnecting with his father
The other big thing that happened in the Season 6 finale (besides that elevator scene, which I'll address later) was Winston contacting his absent father for the first time since he was a child. Aly finds out his dad's phone number and Winston leaves him a message saying that he turned out OK despite not growing up with a father.
It seems like "New Girl" is going to be tying up this loose end in Winston's back story before ending. Will we finally meet Winston's dad after all these years?
3. Winston and Aly getting married
If Winston and his dad do reconnect this coming season, I have a prettttty good idea of when it's going to happen: Winston and Aly's wedding. The two cops finally realized they were more than just police partners and got engaged in Season 6.
Since they seem too perfect for each other for anything to break them up, we can be sure that a big wedding is coming up this season, too.
4. "The Pepperwood Chronicles" becomes a best-seller
A bulk of the last season was about the growing popularity of Nick's quasi-autobiographical love story, "The Pepperwood Chronicles," leading up to a publisher actually meeting with him to distribute it wide in the finale.
For the entirety of the show, Nick's professional life as a writer has never taken off, but for the final season, we might get to see Nick actually fulfill his dreams of becoming a successful novelist!
5. Jess and Nick get together
OK, obviously this is the one every single "New Girl" fan has been dying for since Season 1, and the show has been playing with our emotions long enough. We got a full season of the two dating back in Season 3, but that ended in a breakup and Jess and Nick have just stayed friends who sometimes casually flirt for years now.
But, in the last season finale, we saw Nick finally profess his love for Jess and run into the apartment elevator with her for a big kiss! Let's hope they can make their love work until the end of the show this time.