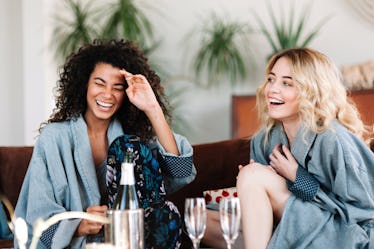 These Chill Bachelorette Party Ideas Were Made For The Lazy Bride-To-Be
Kayla Snell/Stocksy
Before you get married, you have to make some more memories with your besties. Bachelorette parties are just part of the tradition when it comes to wedding season. Sometimes they're a night to celebrate being single (sort of) one last time, and other times they're a reason to book a weekend getaway with your girls. Surrounding yourself with your soul sisters is essential — and if you're the maid of honor or another member of the bridal party, you've probably already started making plans. Your lady is lazy, so the best bachelorette party ideas for her will fit her chill lifestyle, but be entirely lit just the same.
You're kind of lucky that your best friend is so low-key. She's made wedding planning so easy and effortless — right down to picking out the perfect dress. On her special day, she'll probably take a nap before the ceremony, and swap out heels for a nice sandal. Her hair will be in loose curls and she won't fuss much over her mascara. You've always been so amazed at her ability to look naturally chic like this all the time, and wonder how she still manages to run so late.
The bachelorette party should match the person, and you want it to be an experience she'll remember forever. Take some carefree cues and consider one of these eight ideas to celebrate love with your lazy friend.