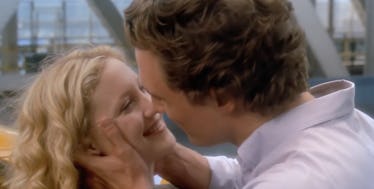 7 Romantic Movies On Netflix To Get You In The Mood For Valentine's Day
Paramount PIctures
We're less than a week away from Valentine's Day, which means it's officially time to start getting caught up in the fake romance of it all. Sure, not all of us (read: probably none of us) will be on the receiving end of one of those amazing, chocolate perfume boxes that Kim K has been sending out to all her lovers and haters, but that doesn't mean we can't still stuff our faces with cheap heart-shaped knockoffs while streaming a bunch of lovey-dovey rom-coms until we're finally feeling the love. So here are seven romantic movies on Netflix to help get you in the mood. Conversation candy hearts sold separately.
1. Hitch
In what world does a nerdy accountant played by Kevin James end up with a super rich celebrity played by Amber Valletta? In the one where the former gets an assist from a dating coach named Hitch, played to sleek perfection by Will Smith. Of course, Hitch loses his mojo when he falls for a tabloid gossip columnist. (Hi, Eva Mendes!) But this is rom-com land we're in here, so not all is lost. For the record, I totally ship the whole James-Valletta romance. And bonus points for a hilarious scene involving a shellfish allergy and Benadryl. But it's Eva's post-credit dance moves that legit steal the show every single time.
2. Definitely, Maybe
Ryan Reynolds is the star of this movie, so happy early Valentine's Day to us all! The man who would later become Mr. Blake Lively is ridiculously charming as divorced dad Will Hayes, who tells his precocious daughter Maya — played by a young Abigail Breslin! — the story of how he met and fell in love with the three most significant women in his life. Isla Fisher is one of them! And so is Rachel Weisz! And Elizabeth Banks! In the end, Reynolds winds up scoring a second chance with one of them because hello, happy endings! Is she the one chugging a beer in this picture? I guess you'll just have to watch it to find out.
3. Can't Buy Me Love
OK, so maybe we can't watch McDreamy on Grey's Anatomy anymore — #StillNotOverIt — but we still have Patrick Dempsey playing the nerdy Ronald Miller in this cult fave '80s high school flick. This is one of those movies where the un-cool kid (Ronald) pays a cool kid — the incomparable Cindy Mancini — to be his girlfriend for a month so he'll become popular-by-association. Which is like, totally a thing in high school. Does it work? You can probably guess. But you'll love it as much for McDreamy, as you will for its iconic ending that oddly takes place on a lawnmower.
4. While You Were Sleeping
I just watched this awesome '90s rom-com the other day and lemme just say that it totally stands up, you guys! Would Sandra Bullock's whole fake identity thing fly now in the age of social media and Google? Not for a minute. But it's a super sweet throwback to more innocent times when you could fall in love with a guy you didn't know, become his fake fiancé, win over his entire family while he's in a coma, and then accidentally end up falling in love with the coma guy's brother — all before he ever wakes up.
5. Love Actually
Yes, I know it's a Christmas movie classic. And yes, the Emma Thompson storyline is hella depressing. But you can't tell me that Andrew Lincoln holding up those cue cards outside of Keira Knightley's house isn't the most romantic Valentine ever. To me, it is perfect. So yeah, you should go watch it now.
6. 13 Going On 30
Is this movie technically Big re-done with a female lead? Um, yeah. But I'm not gonna lie — I totally love it anyway. Jennifer Garner crushes her role as a 13-year-old stuck in the body of a 30-year-old beauty magazine editor. Plus Mark Ruffalo is super hot as her love interest, and Judy Greer should play the mean girl bestie in every movie ever. Oh, and plus 10 for that spot-on Thriller dance sequence, which would never happen IRL but it's still completely awesome.
7. How To Lose a Guy in 10 Days
And finally, we have HTLAGITD. It's a lot of letters, I know. But I'm all for acronyms, so I'm going with it. Anyway, I totally dig this rom-com because Kate Hudson and Matthew McConaughey are basically playing amped-up versions of their real-life, super cool selves. Also, the hilarious Kathryn Hahn is in it. Plus, we get to see Kate and Matthew duke it out by angrily belting out a few bars of Carly Simon's "You're So Vain" at a party. Nothing I could possibly write here would do the scene justice, so just watch:
I bet you want to go stream this movie now, don't you, don't you?
Oh, come on — like you didn't see that coming!