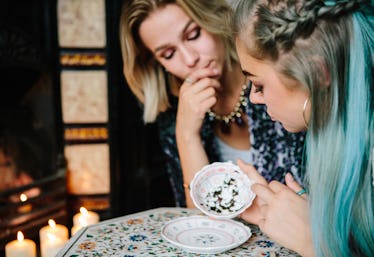 This Horoscope Hotel Is The Perfect Spot For A Zodiac Lover's Bachelorette Party
KKGAS/Stocksy
Before you're a bride, you're a bachelorette. It's tradition that before the big day, you have one more party to celebrate being — well sort of, I suppose —single. Our best friends are completely in charge of coming up with something special. Maybe you'll spend the whole weekend in your favorite city with your friend crew, hit up the local bars, or have a totally unique adventure. As the bestie in this scenario, you might feel a little stressed, especially if your special someone is obsessed with the stars. But take a deep breath, because the best bachelorette party ideas for the zodiac lover are insanely cool and cosmic.
People often get astrology and astronomy confused, so let me clear it up a bit. Your bestie might be equally obsessed with the moon, and as perfect as the planets. But, astrology is more about the constellations and energies that are separate, yet related to the exact science going on in space. Depending on where the planets are in their orbits, our personal atmospheres are affected.
Have you ever heard of Mercury Retrograde? Your bestie has probably blamed her problems on this celestial event on more than one occasion (I'll forever be guilty of this.). During this event, the planet Mercury is apparently moving backwards, causing our communication and travel plans to get totally thrown out of wack. Maybe don't plan her bachelorette party during one of these times of the year.
Your bachelorette is a zodiac lover, so her party has to be totally star-studded. Here are seven ideas you might want to consider that will totally speak to her love for the signs.