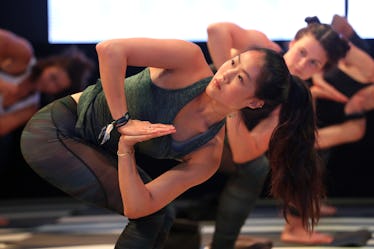 Yoga Poses For Your Zodiac Sign That'll Help You Find Your Inner Strength
Sean Gallup/Getty Images Entertainment/Getty Images
You're probably used to using your zodiac sign to interpret your personality traits and see what the stars say is in store for you in the coming weeks. However, your sign can also help you learn more about your own health and the various realms of your body. This is why figuring the most nourishing and aligned yoga poses for your zodiac sign will help make your next flow feel as juicy as ever all the way from your head down to your toes.
Yes, "yogastrology" is a thing, people. Combining the strong practices and beliefs of yoga and astrology looks at the body through the lens of your zodiac sign, using yoga asanas to strengthen them.
When you really tune in with your body on a deeper level beyond your physical self, it allows you to become more attuned with the universe, the cosmos, and ultimately leads to a sense of gratitude, fulfillment, and overall wellness from the inside out.
"Yogastrology" brings your body into alignment with the sun, moon, and stars, syncing your body and mind to the natural cycles of the earth, and allowing you to let go of what doesn't serve you once and for all.
Here are the yoga poses each zodiac sign needs in their lives to promote the best possible mind-body connection. Incorporating these movements into your practice will let you unlock your highest potential of inner strength and allow you to become more deeply in tune with your body and its needs.