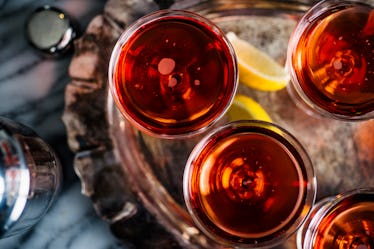 Moon-Inspired Cocktails Exist & They'll Bring Your Insta To A New Level
It's only the beginning of the New Year, and yet another celestial event is just around the corner. This year is starting off right, and on Jan. 31, we will be blessed with a Super Blue Blood Moon. Try saying that four times fast! It's a bit of a tongue twister, but what it really means is we're getting our second full moon of the month, and a total lunar eclipse at the same time. It truly is something to celebrate, so start planning your moon viewing party now with some Super Blue Blood Moon cocktails.
It takes a lot of coincidence for a Super Blue Blood Moon to happen. You need a supermoon on the same night as a total lunar eclipse. If you thought that was special enough, now to make it a Blue Moon, you need to have two full moons in the same calendar month. Since we already experienced the Wolf Moon on Jan. 1, this is the second full moon we're getting to see in January. It's so unique that the moon is basically begging for us to look at it and celebrate how cool it is. It's not a party without some cocktails of course, so if you're 21 and up, you'll want to try these eight moon-inspired drinks.