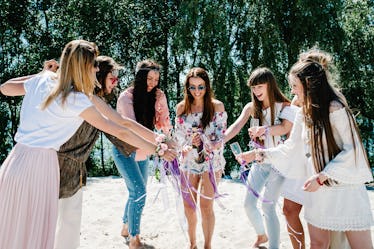 This Wine Safari Is Perfect For Your Bestie's Bachelorette Party
Your girl is getting married and she's about to walk those cute pumps down the aisle and into matrimony. Before you send her off to forever with her SO, a killer bachelorette party has to seal the deal. If wine has always been her go-to celebratory beverage, since the moment she was proposed to you were already jotting down wine tasting bachelorette party ideas because, to you girls, if you aren't sippin', did you even really celebrate?
The most brilliant part about wine tasting is that it doesn't have to be done one way and it's acceptable for many occasions. While you and your girls have probably mastered the impromptu boozy brunch Sundays, you want to plan this outing the best way you can. C'mon, your girl deserves the world and if you can make her feel like she's on top of it with a full glass of rosé, go for it.
I know how wine can get us in our feelings at times, but this is a turning point for your girl, and happy tears don't ruin eyeliner as much. If your bride puts the "I" in wine, she'll enjoy any of these activities for her bachelorette party with her tribe.