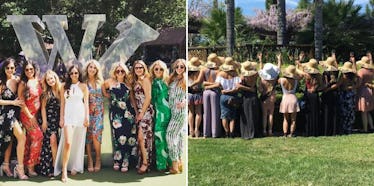 6 Boozy Bachelorette Party Ideas For Every Bride-To-Be Who Loves Wine
Instagram
Before your bestie ties the knot, you're responsible for making the remainder of her unmarried time memorable.
Planning the bachelorette party is nothing short of exciting. That day, night or weekend getaway strictly revolves around the bride-to-be.
She deserves to be pampered and celebrated to the highest degree, with all of the festive trimmings to go along with it.
Deciding where to have the bachelorette party, along with what kind of bash you want to throw for your bride, can be super time-consuming.
For all of the future brides out there who have a passionate love for wine, here are a few boozy party ideas to put your planning stresses at ease.
1. Savor your way through Europe with a wine tasting and horseback riding tour.
What could make for a more memorable trip than jetting off to Europe for wine tastings and horseback riding through exquisite Tuscan vineyards?
If your bride-to-be has an undying love for travel, and if she also happens to be a wine connoisseur, the Villages and Vintages horseback riding getaway is a prime option for her bachelorette bash (when the price tag is flexible, of course).
The horseback riding tour will take riders on an unparalleled adventure through Italian medieval villages, olive groves and vineyards. Guests can spend their downtime at a farmhouse, which includes a pool and a serene view of the grazing horses, as well as divine meals made with fresh, local ingredients.
Another spectacular option is bringing the party to the vineyards and beautiful beaches of Bordeaux, France for a week-long getaway.
This equestrian trip includes wine tasting, scenic routes through pine forests and breathtaking beaches, a boat trip across the Gironde estuary and visits to famous castles.
Hop aboard the Napa Valley Wine Train for an impeccable tour of Napa's top-notch fruit of the vine in Northern California.
The train itself runs through the gorgeous terrain of Oak Knoll, Yountville, Oakville, Rutherford and St. Helena.
Passengers can sign up for day trips, including The Castle Winery tour, which invites guests to explore the Castello di Amorosa, enjoy a multiple-course gourmet lunch, tour the grounds and taste some delectable wine.
If you're extending your stay for a long weekend, the Wine Train is a perfect way to kick off your trip, and explore more wineries in the area over the next couple of days to keep the festivities going.
3. Bring the party to a rejuvenating (and lit) wine spa.
If your bride-to-be is all about those relaxation vibes, GrapeSeed Spa at South Coast Winery Resort & Spa in Southern California is the spa to end all spas.
With four facial rooms, 16 massage rooms and several relaxation lounges on-site, your bride-to-be will certainly receive the pampering she deserves all weekend long, with a glass of wine never far from her reach.
4. Rage at a wine and music festival.
Music City Food + Wine Festival takes place September 15-17 in Nashville, Tennessee, where culinary stars will be whipping up the most delicious eats for you and party.
Wine will be served, of course, and the music will take the festivities into the evening, so you and your squad can seriously turn UP.
5. Hit the high seas on a wine river cruise.
There are countless destinations across the globe that spotlight wine river cruises. And you don't have to jet off to Europe for the ultimate wino experience.
Whether you decide to take the party to Portugal for a cruise on the River of Gold, or explore the wines of Oregon and Washington via the Pacific Northwest, you'll be cruising in style and loving every second of it.
This lavish experience will be an unforgettable one for the bride-to-be and her bridesmaids.
6. Host a themed brunch at a winery, complete with a wine safari.
Find a trendy winery near you, where you can host a fun, themed brunch for the girls. Tell everyone to dress in flower crowns and festival-inspired fashion, and coordinate the table decor and party favors accordingly.
Malibu Wines is the ultimate destination for this (and one of my personal favorites). The grounds showcase whimsical string lights, vintage cars, adirondack chairs and a huge "WINE" statue. Its chic decor was seriously made for Instagram.
This winery also offers an epic wine safari, which invites guests on a journey throughout the 1,000 acre Saddlerock Ranch. You and your party can chill with the zebras, and even meet Stanley the Giraffe himself.
Whichever boozy bachelorette party you decide on, your bride-to-be will be the queen of the event.
Citations: Tuscan Villages and Vintages (Equitors), Vineyards and Beaches of Bordeaux (Equitors), Napa Valley Wine Train (Napa Valley Wine Train), The Castle Winery Tour (Napa Valley Wine Train), ESCAPE TO OUR TEMECULA DAY SPA (South Coast Winery Resort & Spa), Top 10 Wine River Cruises (Cruise International: Expert advice and Cruise Destinations), Wine Sailings on Pacific Northwest River Cruises (Cruise Critic), Malibu Wines (Malibu Wines)