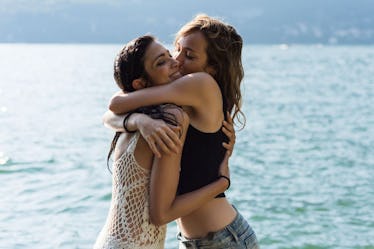 Why You Never Forget Your First Summer Break With Your College Besties
Best friends forever starts with a summer full of making memories. Up until now, you've always had the sweetest months in the sun with your friends from home. You all grew up going to summer camp together, where you'd spend afternoons by the lake. Once you got older, those days just turned into endless beach trips and adventures that would later make it onto social media. But now, you have a whole new set of besties to hang with during break. There are a few reasons why you never forget your first summer break with your crew from college. You'll be looking back on these moments next semester, and in the years to come.
These are the girls who lived in your dorm, or understand your love for the Food Network. They'd be your buddies when you had to pull an all-nighter in the library, and bring along your favorite snacks. You'd all spend your Saturdays together exploring your college town and going on sushi dates. One day, you'll probably have an apartment in the city together. But, let's slow down, because this summer, in particular, is meant to be savored.
Like every single s'more you'll share with your besties by a bonfire, this summer is sweet and will likely go by way too quick. Being apart for a few months means having new adventures and taking polaroids that are picture perfect. This first summer break with your college friends is unforgettable for seven reasons. Study up on this, OK?