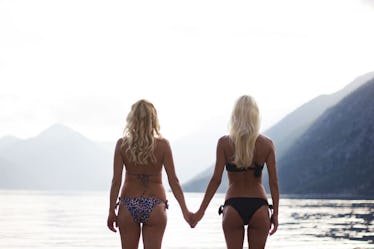 Why Traveling With Your Leo BFF Will Give You The Best Summer Yet
Let's talk about your Leo friend: She's truly going to be the best travel buddy for you this summer. If you're anything like me, you've been trying to plan a trip since the start of winter. You were daydreaming about tropical destinations, and watching every single vlog you could find on YouTube just for some sort of escape. The only reason why you didn't purchase any plane tickets is because you didn't want to see these sights all by yourself. Now that it's the sunniest season of the year, though, you should consider traveling with your Leo friend. She'll truly make this the best summer yet — just you wait and see.
Seriously, get your suitcase and passport ready, because you're going to be taking off hopefully sooner rather than later. You'll be scoring new stamps at the airport before getting all the Instagram-worthy photos for your feed. Yes, life is going to be so sweet. But, as many of us know, a trip is only as good as the company you take with you.
Your Leo friend is probably already such a radiant beam of sunshine in your everyday life. You like having her around, because there's truly never a dull moment when you're together and making memories. You've had some pretty rad adventures so far with her by your side, but there are still so many more to come. Traveling with that Fire sign is a must this summer for seven simple reasons.