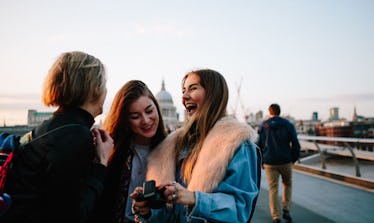 The One European City You Need To Visit ASAP, Based On Your Personality
Probably the most difficult part of planning any trip is deciding where to go. Sometimes, you may consider just closing your eyes and letting your finger fall on the map. You look at where would be cheap to travel this time of the year, or the islands that your favorite bloggers have been to in the past few months. Let's be honest: Your Instagram is full of people going on exotic getaways, or taking to the tropics. It's your turn to pick the best European city to visit, in particular — and based on your personality, there's one place that'd be a perfect fit for you.
Pack your suitcase with some lightweight sweaters and a comfy pair of shoes, because you'll be doing a lot of walking. You'll spend your mornings hanging with the locals in quaint coffee shops, and will see all the sights in the afternoon. The Eiffel Tower, Big Ben, and the beautiful Spanish beaches are all musts during your travels. Where do you even begin? Personally, I'd start with the pasta in Italy, and eat my way through the entire continent.
You're already beyond excited to get your passport stamped, and know that a few long hours on a plane is so worth the adventure that awaits. No matter where you go, it's bound to be a trip for the books. But, based on your personality, this is the one European city you need to visit ASAP.