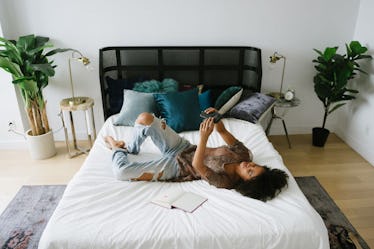 The Way You Text In Group Chats Reveals So Much About Your Personality
Group chats are the best and worst things that have ever happened. On the one hand, they're a perfect way to talk to all of your besties at the same time. On the other hand, they're constantly blowing up your phone. What you may not have considered, though, is the way you text in group chats. Your phone habits reveal so much about your personality. So, before you respond, figure out what message you may actually be sending to your crew.
Think about your best friends, and the group chat you've probably had going for years on end. Your outgoing friend is always the one to use emojis, and you have at least one girl in your group who solely sends memes. On any given day, there's an Aquarius looking to make plans, and a Pisces who just wants to stay in. Yes, you can truly tell a lot about a person from their star signs, or based on what cup of coffee they order. But, you may not have noticed how the signals your besties are sending you, just from how they typically use their phone.
Personally, I'm the girl who takes forever to respond to a group chat. I'll be active on Instagram, and completely forget that there's a notification in my inbox. It's nothing personal, but it probably speaks to my Sagittarius and free-spirited soul. How do you text in a group chat? You're saying more to the world than you may know.