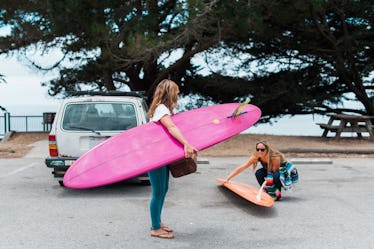 Spontaneous Things To Do With Your Leo Bestie This Summer
Summer is only as sweet as the people you spend it with. Beach days, smoothie runs, and all the adventures in between are just better when you're with your bestie. There are some perks to traveling solo, and I've never been one to share a s'more anyway. (Is that even possible?) But, the sunniest season of the year calls for finding the Leo in your life, and keeping her close. It's her birthday soon, and all the stars are in the right places. You'll want to track down some things to do with your Leo friend, because she's thriving — and you can be, too.
By now, I hope you've taken at least one trip with this girl and experienced her radiant energy. She's always been the best travel buddy because she'll never get tired of posing for pictures, and she'll find something to smile about wherever she goes. Although she can be a bit lazy, or loves to have her head in the clouds, you wouldn't want it any other way. Especially when you're trying to make memories, it's nice to have a social butterfly and light-hearted soul in the mix.
This summer, I hope you hang out with your Leo lady a lot. The universe has given you her bright and shining personality, and during this season, she truly comes out of her shell. Make the most of the next few months, and plan one of these seven spontaneous adventures. If you hadn't noticed yet, it's going to be pretty sweet.