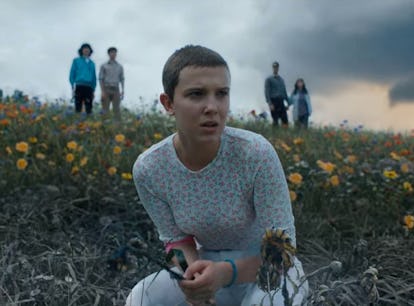 The Title Of Stranger Things 5's Premiere Is As Ominous As You'd Expect
Netflix
Stranger Things knows how to cause a stir. Three months before Season 4's debut, the creators of the Netflix series revealed lots of info about the upcoming season. However, amid all the hubbub, one piece of information stood out: Stranger Things 5 will be the show's final season. With the end almost in sight, here's what to expect from Stranger Things 5, including speculation on the series' release date, cast, trailer reveals, and other updates.
Warning: Spoilers for Stranger Things 4 follow. When Stranger Things debuted in the summer of 2016, it did so with little fanfare and even less marketing. But Netflix execs underestimated the draw of a series that mixed the '80s idealism of Steven Spielberg with the horror of Stephen King, and the show soon became one of the streaming service's biggest flagship series.
The creators of the series, Matt and Ross Duffer (better known as the Duffer Brothers), previously confirmed that Stranger Things 4 would not be the final season, but they also acknowledged that they knew exactly how the show would end. In an open letter to fans shared on Feb. 17, 2022, the Duffer Brothers revealed Season 4 would be released in two volumes, followed by a fifth and final season.
So, let's get into it, nerds.
Stranger Things 5 Possible Plot Details
With each season, the story of Stranger Things progresses a year at a time. For example, Season 4 was set in 1986, so audiences naturally expected Season 5's events to happen in 1987. But the new season might make an even more significant jump. Ross Duffer revealed in a June 7 interview with TVLine that because the show's young stars have visibly aged so much in recent years, the final season will need to implement a time jump. "I'm sure we will do a time jump," Duffer said. "Ideally, we'd have shot [Seasons 4 and 5] back to back, but there was just no feasible way to do that. So these are all discussions we're going to have with our writers when we start the room up."
Whether or not there is a time jump, fans know the title of the finale season's premiere episode. On Nov. 6, Stranger Things Day, the Duffer Brothers tweeted the cover of the opening script, titled "The Crawl."
As of the Stranger Things 4 finale, the Upside Down has broken through into Hawkins, and the town is in ruins. The show is setting up for the final battle between Vecna and Eleven. Will's sixth sense will also be a factor, and Max's coma seems significant. The ongoing satanic panic in Hawkins is also important, as the "earthquake" the media claims was the reason for the town's shake-up has people believing the city is cursed.
Stranger Things 5 Filming Updates
When Netflix announced the renewal of Season 4 in 2019, the streamer also reported an overall deal with the Duffers, promising new stories would come from them. At the time, viewers assumed that included a possible Season 5 and beyond for Stranger Things, even though the statement didn't explicitly state that.
The Duffers' Feb. 17 open letter officially confirmed Season 5 would indeed happen. Although there weren't many details in the letter, one thing did stick out: the mention of new mysteries to come "within the world of Stranger Things." So while Season 5 is the end of the series, it's not the franchise's end. The Duffers have since confirmed at least one spinoff is in the works.
The show's writing team dropped the first clue as to the final season's production timeline on Aug. 2, 2022, confirming writing for the season officially began that day.
On Oct. 27, 2022, as part of an interview about Enola Holmes 2, Millie Bobby Brown confirmed that filming for Stranger Things 5 will commence in 2023.
Stranger Things 5 Cast
Although Stranger Things 4, Vol. 2 featured a few deaths, the core cast of kids are expected to head back to Hawkins for Season 5. Millie Bobby Brown should return as Eleven, Finn Wolfhard as Mike, Gaten Matarazzo as Dustin, Caleb McLaughlin as Lucas, Noah Schnapp as Will, and, despite her character being in a coma, Sadie Sink will hopefully be back as Max.
Natalia Dyer is expected to be back as Will's sister Nancy, Charlie Heaton as Will Byers' brother Jonathan, and Joe Keery as Steve filling out their love triangle. Also likely coming back: Priah Ferguson as Lucas' sister Erica, Maya Hawke as Robin, and going off the final shots, Amybeth McNulty as Maya's love interest Vickie.
The Duffers' letter also mentioned "a broken police chief" and a "ferocious mom," which refers to Hopper and Joyce, played by David Harbour and Winona Ryder. Fans will also probably see Cara Buono as Karen Wheeler, Brett Gelman as Murray Bauman, and Eduardo Franco as Argyle. Sadly, the Duffers confirmed Eddie is gone, so chances are Joseph Quinn is done with the series.
The Duffers also confirmed there would be flashbacks to fill in Brenner's years with One and how he became the imprisoned "orderly" Eleven met. That means Matthew Modine will be back, as will Jamie Campbell Bower as One/Henry/Vecna.
Stranger Things 5 Trailer & Release Date Predictions
It was two and a half years between Seasons 3 and 4 of Stranger Things. With that in mind, it's hard to say when Season 5 will arrive. As much as fans would like 2023 to be the answer, it seems more realistic to assume 2024, given the massive production that will undoubtedly go into making the farewell season. However, the Duffers have promised the episodes won't be as long, so hopefully, the wait for Season 5 won't be too long.
Since Stranger Things is one of Netflix's most anticipated shows, fans will probably get a glimpse of footage early on, with teasers and behind-the-scenes videos arriving to hold everyone over. That means a teaser for Season 5 will likely come in 2023, even if the final season does not.
Stranger Things Seasons 1 through 4 are streaming on Netflix.
This article was originally published on