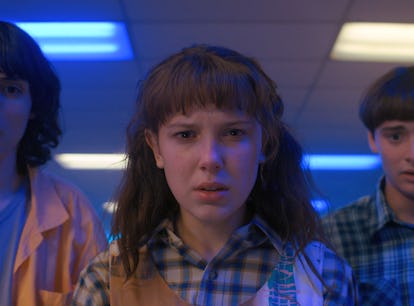 Watch The First Scene From Stranger Things 4 — At Your Own Risk
Netflix
After three years, Stranger Things managed to shock viewers with its Season 3 finale. Instead of yet another set of unnerving adventures in the Upside Down, the show took a hard left and had Joyce Byers pack up her family (and Eleven) and leave Hawkins for good. On the one hand, it was a practical solution after the heartache she suffered in losing both Bob and Hopper. On the other, it left fans wondering: Where does the show go from here? With Stranger Things Season 4 confirmed, fans are desperate to know what's next.
Season 3 gave fans many of the things they'd hoped for, including an almost-romance with Joyce and Hopper. But their potential partnership was derailed in the final episode when Hopper sacrificed himself to close the hole to the Upside Down created by the Russians under Starcourt Mall.
As Joyce, Jonathan, Will, and Eleven left town at the very end of the season, the credits rolled. But the show wasn't over. In a post-credits sequence, viewers found themselves in a Russian military base, where a new hole to the Upside Down was being tested. As the soldiers walked by a cell, they discussed "The American" inside. This led to a huge fan theory that Hopper had survived the Starcourt blast, only to be rescued out of the Upside Down by USSR scientists in Kamchatka, an isolated peninsula in Russia's far east region.
It's since been confirmed that Hopper is, in fact, still alive. But that doesn't have fans any less eager to uncover deets about the new season. Plus, the new castings for Season 4 also suggests that Hopper isn't the only focus for the new season.
Here's everything we know so far:
Stranger Things Seasons 1 through 3 are streaming on Netflix now. Season 5 is already greenlit and confirmed as the final season.
This article was originally published on