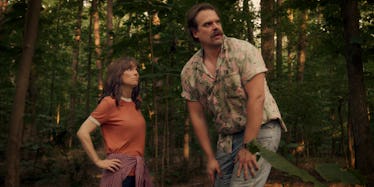 6 Hopper & Joyce 'Stranger Things' Halloween Costumes That Are Scary Good
Netflix
Chief Jim Hopper and Joyce Byers are the couple to ship on Stranger Things. Known as "Jopper" to their fans, these unlikely singles have slowly worked their way to a relationship throughout three seasons of the series. And then, just as fans thought it would finally happen (with a little pushing from Murray), tragedy struck. Hopper sacrificed himself to save Hawkins, and Joyce was left alone. But these Hopper and Joyce from Stranger Things Halloween costumes are a great way for fans to hold on to hope for Season 4.
One of the things that makes Joyce and Hopper so easy to do for Halloween is Stranger Things keeps their looks simple. In Season 1, Hopper dresses in pretty much one outfit for the entire run of episodes. There's also not a lot of variation between the first two seasons. Because both characters are working-class, neither have a lot of budget to change clothes.
Season 3 is where the bigger changes occur. This is partly due to the weather — Seasons 1 and 2 are fall and winter, Season 3 is mid-summer. And yet, neither of them wear anything too difficult or unrecognizable. That's good costume designing, and that's great news for those looking for an easy couples costume this holiday season.