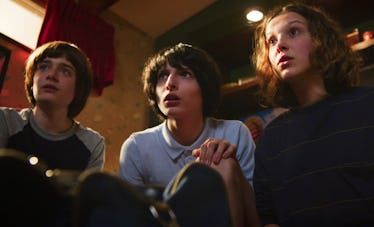 'Stranger Things 4' Is Officially Happening & Fans Already Have So Many Theories
FX
Stranger Things fans have been anxiously waiting for any news about the Netflix sci-fi show's potential fourth season for months, and now it finally looks like they are getting their very first clue about where the show will pick up. All of the Stranger Things social media pages changed their profile pictures to a cryptic photo on Sunday, Sept. 29, and a day later on Monday, Sept. 30, Netflix announced Stranger Things Season 4 is officially happening. The big renewal news has the fandom pumped, and many viewers are already guessing what that mysterious image may mean about the upcoming season.
Since Stranger Things Season 3 dropped back in July, fans had not heard a peep about a potential fourth season. Still, given the show's massive popularity and that cliffhanger ending, Season 4 felt like a given, so it was no huge surprise when Netflix finally made the big renewal announcement. After getting over the initial excitement about the new season being confirmed, fans immediately jumped into theorizing about that Season 4 will be about, thanks to a pretty telling clue.
On Sunday, Sept. 29, all of the Stranger Things social media accounts changed their profile pictures to a photo of an ominous clock. Fittingly, the clock shows the time of 11:00, which is both a cheeky reference to the character Eleven, as well as a great teaser for the Season 4 renewal news that came out soon after.
So, uhh, what exactly could this clock photo be trying to tell fans about Season 4? For one thing, the murky black appearance of the clock seems to suggest it is located in the Upside Down, and sure enough, the show's Twitter account tweeted a clock emoji alongside an upside-down smiley face emoji right after changing to the new profile image.
Putting these clues together, the photo could be hinting that the Upside Down will play a major part in Season 4. This has already been heavily theorized by fans, since the Season 3 cliffhanger ending suggests Hopper somehow traveled through the Upside Down and Russian scientists are closer than ever to cracking the secrets of the parallel dimension.
The new Season 4 teaser basically confirms the prominence of the Upside Down, and it also doubles down on the importance of clocks. The brief clip that accompanied the Season 4 renewal news shows the Upside Down enveloping the show's title and reads "We're not in Hawkins anymore." All the while, ticking clocks and a bell tower can be heard, confirming that the clock image is indeed an important element to this new season.
Of course, the clock has also bolstered fan theories that time travel will be a prominent component of Season 4. Several fans have guessed that Season 4 might introduce time travel following that Hopper cliffhanger. The overarching theory is that the Upside Down is capable of distorting the laws of both time and space, which is how Hopper possibly found himself in a Russian prison cell after jumping into the Upside Down at the end of Season 3.
As you can already see, both of these theories can easily be brought together to form a pretty compelling storyline prediction for Season 4: Eleven and friends must set off into the Upside Down and use the dangerous dimension to travel through space and time in search of Hopper. I mean, I would totally be down to watch that if that is indeed what the Duffer brothers have planned for Season 4, but of course, it is all just speculation right now.
Netflix has not announced a premiere date for Stranger Things Season 4 yet, but judging from when past seasons have dropped, fans will likely have to wait at least a year before the new season airs.