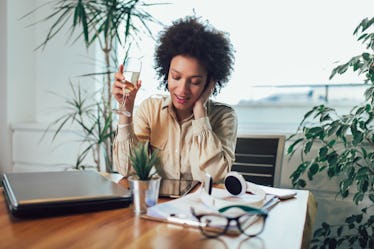 15 Virtual Happy Hour Games You Can Play With Your Crew For Grape Times
Shutterstock
Believe it or not, you don't have to venture out to a restaurant to enjoy happy hour with your people. After a day of sending emails, typing out reports, and attending meetings on Zoom, you can still pour a glass of wine and catch up with your BFFs. Thanks to apps on your phone, like FaceTime and Google Hangouts, you can even challenge everyone to a few virtual happy hour games.
These are the games you might have played in person — after ordering a pitcher for the table or perusing the menu for sliders, wings, and other tasty appetizers — or they may be entirely new to you and your happy hour crew. Either way, they'll likely brighten your day and give you a reason to smile. They may bring you closer to people who you may have considered acquaintances beforehand, too, and give you a chance to tell your greatest stories.
To get started, you simply have to make sure everyone has the same app on their phone and coordinate a time everyone is free to "happy hour" in a group chat. Once you've reached a time, log on accordingly and have a drink prepared. After everyone has caught up on the latest hot gossip, propose playing one of these 15 games. Grape times are ahead.