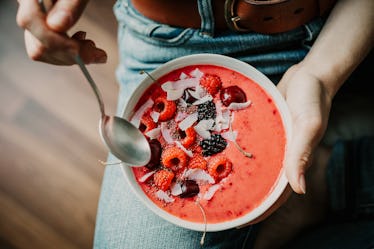 10 Smoothie Bowl Tutorials For Whipping Up A Delicious & IG-Worthy Snack
Shutterstock
Snacks that are delicious and Instagram-worthy are your jam. When you see a decked-out cheese board or colorful smoothie bowl on your feed, you can't help but turn your phone to your roomie and say, "We have to make this." Smoothie bowls, in particular, are incredibly tasty and will leave you feeling bright, happy, and nourished. Watch a few smoothie bowl tutorials on YouTube, then head to your kitchen and make one for yourself.
You want to make sure you're using the right ingredients and tools so your smoothie bowl comes out thick and flavorful. Granted, your first one might not be the best one you ever make. (Practice makes perfect, right?) Watching these videos will at least give you an idea of the steps you need to take, though, before you whip out a large spoon and your digital camera. They'll bring you into the kitchens of influencers and a few fitness lovers, and teach you how to combine frozen mango, rich-colored dragonfruit, and cashew milk to create a one-of-a-kind snack.
Not to mention, they'll coach you on how to perfectly sprinkle coconut shreds and flax seeds on top of your smoothie bowl for the ideal pic. If you have some spare time, watch these 10 smoothie bowl tutorials and then whip up your own. They look so delicious from beginning to end.