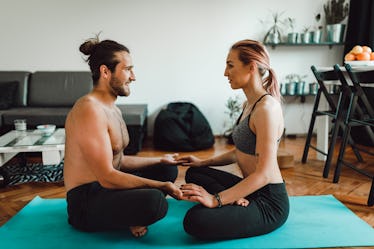 8 Couples Yoga Tutorials That'll Have You Saying "Namaste" With Bae
domoyega/E+/Getty Images
Getting the motivation to work out can be tough when you're chilling at home. Your couch and TV are right there and tempting you to declare today a "rest day." But, after you and your partner put on your fave workout clothes and do some couples yoga YouTube tutorials, you'll be so glad you didn't take the day off. These videos will leave you feeling so connected and in sync, and give you a solid reason to make a yummy smoothie together, too.
Whether you two are new to the yoga game, or have been practicing the various poses and flows since you started dating, these tutorials are nice and easy to follow along with. Some will challenge you to conquer a few chosen moves, along with influencers and vloggers, and others are more focused on doing stretches slowly and thoughtfully. All will require your partner to work with you and vice versa, in order to get a good workout in and accomplish the video's major goals.
If you walk away from the mat feeling refreshed or straight-up laughing with your SO, then it's safe to say you've done the tutorial right. Let's go ahead and get into these eight tutorials, shall we?