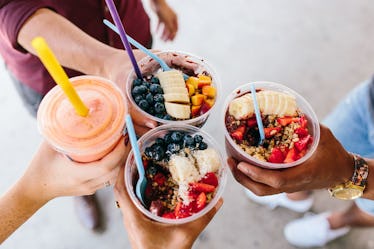 27 Captions For Your Artsy Acai Bowl Pics, So Get Your Spoon Ready
Acai bowls are another excuse for us to add countless toppings to something incredibly delicious, and scoop it like it's no one's business. You can't beat how Insta-worthy they are, either. Whether you're an almond butter and banana or dragonfruit and kiwi kind of acai gal, you know that deep magenta or purple complements just about every kind of topping. Before your appetite gets the best of you, though, let captions for acai bowls be on your mind before you post anything to your feed.
The trend of taking mouthwatering pictures of food and sharing it, is not going anywhere anytime fast. It might sound a bit basic, but your feed is your space to get creative — and if you're a foodie, your posts constantly leave people with grumbling bellies.
It's summer, so snapping a few pics of your strawberry, peanut butter, and granola bowl is essential for the 'Gram. If you have a pool float or are enjoying your bowl at the beach, even better! People get a kick out of how those vibrant colors pop on their feeds, and TBH, you won't even need to drop a filter on it. That's right, these bowls are giving #nofilter a foodie makeover, and I am so here for spreading the acai love. What more could you ask for out of an Instagram photo shoot subject these days?
An acai bowl is a convenient, on-the-go treat that is perfect for breakfast. But let's be real: It can really be enjoyed whenever and however you please. In my opinion, it holds you over for quite a bit, and if you aren't a huge breakfast person like me, it gets your morning going on a sweet note.
If you are set on expressing these delicious spoonfuls of love in a bowl, these 27 captions should help you out.
1. "Breakfast really is the most important meal of the day, right?" — Unknown
2. "Now that's something I'd like to spoon." — Unknown
3. "Breakfast is everything. The beginning, the first thing. It is the mouthful that is the commitment to a new day, a continuing life." — A A Gill
4. "If we're not meant to have midnight snacks, why is there a light in the fridge?" — Unknown
5. "You can't live a full life on an empty stomach." — Unknown
6. "Living my best life, one acai bowl at a time." — Unknown
7. "Current mood: foodie." — Unknown
8. "There is no sincerer love than the love of food." — George Bernard Shaw
9. "The only thing I like better than talking about food is eating." — John Walters
10. "Food should be fun." — Thomas Keller
11. "I may have found heaven in a bowl." — Unknown
12. "I just don't want to look back and think I could've eaten that." — Unknown
13. "I don't mind sharing the spotlight with this beauty." — Unknown
14. "Filter, who?" — Unknown
15. "Sweet dreams are made of this." — Unknown
16. "There is always time for acai." — Unknown
17. "Starting my morning off with something sweet." — Unknown
18. "I've got the scoop." — Unknown
19. "Laughter is brightest, where food is best." — Irish Proverb
20. "Enjoy it all." — Unknown
21. "Enjoy life, it's delicious." — Unknown
22. "Acai you." — Unknown
23. "When words aren't even enough to describe your joy." — Unknown
24. "Are there even enough hashtags for this?" — Unknown
25. "But first, acai." — Unknown
26. "Life can be sweet." — Unknown
27. "Find yourself someone who looks at you the way I look at my acai bowl." — Unknown