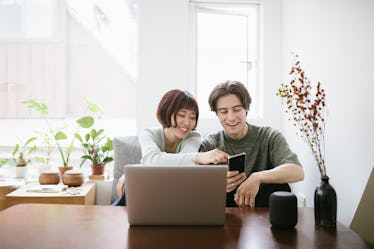 Play These 12 Games On Instagram Live With Your Partner For Laughs & Mems
visualspace/E+/Getty Images
It's time for you to spice up your Instagram content and try out features like Instagram Live. Everybody seems to be going "live" these days, and you want to join the bandwagon. Jump right in with the memorable and hilarious games to play on Instagram Live with your partner. They'll break the ice and make you feel like a social media star.
That's because these games are fun to play, and even more fun to watch. Especially if you make it a regular thing, your followers will adore tuning in to you and bae competing against each other or the clock. You'll look at the comments section and see your BFFs cheering you on with emojis and supportive messages. They may even text you afterwards and ask if they can go "live" with you tomorrow, and face you in cup stacking, pop culture trivia, and more. (Um, of course! The more the merrier.)
These games will catch on, and fast, and entertain your followers while they're chilling at home. Do everyone a favor and go "live" with your SO as soon as possible, and play these 12 games. Start your session off with a catchy phrase like, "Let the laughs and mems commence."