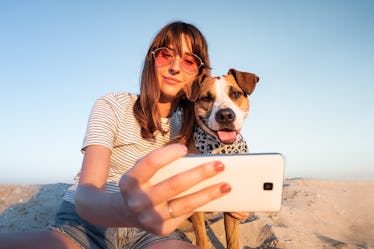 Follow These 14 Dog IG Accounts For Cute Pics & Paw-sitive Vibes
Oleksiy Boyko / EyeEm/EyeEm/Getty Images
There's nothing like a video of a corgi dashing through the snow or a picture of a sweet Golden Retriever sitting on the beach. That kind of #content will always make you smile. It'll make you stop scrolling, turn your phone to your bestie, and say, "Look how cute!" Do yourself a favor and check out the very best dog Instagram accounts to follow in 2020.
You won't regret taking a 15-minute break from work or logging onto Instagram in the middle of the day when you see a German Shepherd with massive ears posing for the camera. When you see a poodle in a raincoat or a pug cuddling with its favorite toy, your heart will feel so complete. You'll instantly forget about whatever you may be stressing about, and have something positive to share in your group chats, too.
To be honest, looking at the pics these dogs (Well, their owners.) post will be hard not to share with everyone you know. They're worthy of putting on your Instagram story or sending to your SO so that more people can smile, giggle, and take in the paw-sitive vibes. Here are the 14 accounts you really should have on your radar. Follow them, OK?