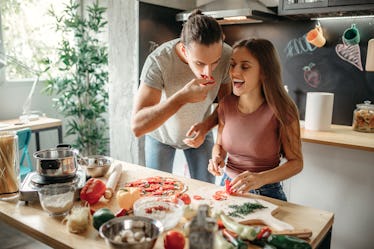 These Pizza Baguette TikToks Put A Mouthwatering Twist On A Classic Pie
CreativeDJ/E+/Getty Images
Step aside, traditional pies, because a new way to enjoy pizza has come to town. People have been posting pizza baguette TikToks, and they are exactly what you'd think they would be — pizza toppings on fresh baguettes. This delicious spin on your typical cheese pie just may be your new favorite lunchtime snack or easy dinner recipe.
If you love pizza, you'll surely love a pizza baguette. The main ingredient you'll need in order to make yourself a pizza baguette is the baguette itself. Since everyone has their own favorite toppings, the rest is entirely up to your taste and imagination. Make a traditional pizza baguette with simply cheese and classic tomato sauce. Or, make a white pizza with cheese and spinach. You can start by nailing down a basic recipe, then have fun deciding on all of your toppings. Whether you add pepperoni, broccoli, green peppers, olives, or even truffle cheese, your tastebuds are sure to thank you.
For a little pizza inspiration, check out these eight pizza baguette TikTok recipes. They'll give you a good idea of what combinations work well, while also providing you with the instructions you'll need to make a pizza baguette at home in no time.