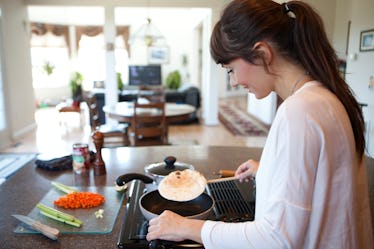 The Tortilla Trend On TikTok Is The Coolest Lunch Hack & Will Make You Drool
M_a_y_a/E+/Getty Images
Things are getting tasty on TikTok. Thanks to TikTokers who are making yummy wraps and desserts with the #tortillatrend, you'll be inspired to wrap and fill your next tortilla in a new way. Before you reach for a snack, watch the tortilla trend on TikTok for some mouthwatering recipes you'll want to recreate ASAP.
You can easily hop on this trend — while getting a scrumptious snack out of it too, of course — by grabbing your wrap of choice and your desired fillings. These tortilla trend TikToks will show you ways to make your wrap look like a gourmet meal. Choose between a dessert wrap filled with chocolate, strawberries, and crumbled cookies for a sweet treat, or a cheeseburger wrap filled with hamburger meat, cheese, lettuce, and onions. Because this innovative trends cuts the wrap into four quadrants, you'll have so much more space to be creative with more fillings for a truly satisfying meal.
Once you prepare your masterpiece, you'll be just as tempted to share a video of it on TikTok. Then, tag it with #tortillatrend so your followers can be super impressed with your chef skills. You may even inspire them to recreate the tortilla trend on TikTok, too.