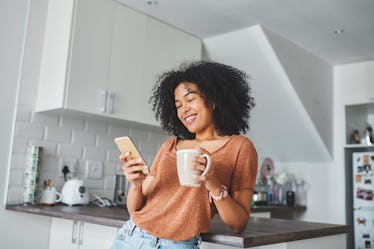 These Coffee Hacks On TikTok Will Perk Up Your Morning Routine
Moyo Studio/E+/Getty Images
Your morning routine wouldn't be complete without a cup of coffee. The drink is a must-have after you roll out of bed and start to scroll through TikTok. You'd likely define your relationship with your go-to coffee recipe as serious, but maybe not entirely exclusive. It's not like you're brewing tea, but you are totally open to the yummy coffee hacks on TikTok that'll perk up the start of your day.
TikTok is filled with foodie hacks, but nothing beats these coffee hacks. You can typically find them by searching hashtags like #coffeehack or by diving deep into the corner of the app known as #coffeetiktok. There, you'll find a long list of aesthetically pleasing videos of milk being poured into coffee and users brewing the most popular Starbucks drinks at home. TikTokers show each of the steps and necessary ingredients so that you can recreate the drink right in your own house.
That's just a tiny taste of what kind of coffee hacks you can find on the app. Some of the other videos break down how to make espresso without an espresso machine, or how to make sure your iced coffee isn't watered down. Here are five coffee hacks on TikTok that'll totally switch up your typical cup of joe.