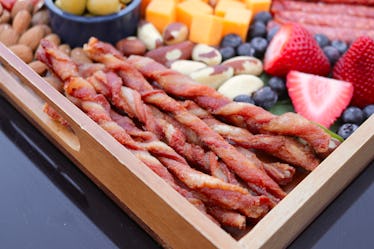 TikTok's Viral Twisted Bacon Hack Delivers A Fun & Crispy *Twist* On A Classic
Shutterstock
TikTok's latest food trend is all about putting a fun twist on a classic — literally. Twisted bacon is popping up all over foodie TikTok, and it's the hack you never knew you needed. By twisting your bacon before putting it in the oven, you get extra crispy and delicious bacon sticks that can be used in a number of dishes. If this is something you'll want to fry for yourself, you need to know how to cook TikTok's twisted bacon.
Scrolling through the #twistedbacon tag, you'll see video after video of TikTokers trying out the twisted bacon recipe. The hack has been attributed to TikToker @houseofketo, who posted a video of a "twisted bacon straw hack" on March 3, 2021. In the video, it shows the user how you can twist raw bacon strips and place them on a baking sheet. Cover them with whatever seasonings you like, and cook for about 30 to 40 minutes at 400 degrees. (It really depends on how crispy you like your bacon.) Once it's cooked to your liking, you can enjoy.
If you'd like to try bacon some twisted bacon from TikTok, check out these eight videos to get inspired with different seasonings and ways to use your twisted bacon in different dishes.