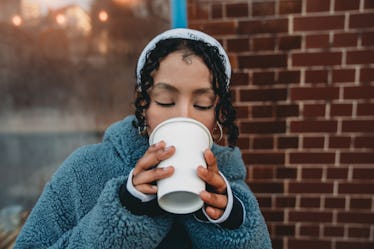 These DIY Valentine's Day Hot Chocolate Bomb TikToks Will Melt Your Heart
Filippo Bacci/GettyImages
Nothing says "Happy Valentine's Day" quite like chocolates. This year, why not take this classic treat to the next level? Thanks to these DIY Valentine's Day hot chocolate bomb TikToks, you can easily create a warm and cozy drink with your favorite Valentine's Day snacks. Now, you and bae can literally melt each other's hearts.
You've likely seen a ton of hot chocolate bomb recipes on TikTok and love watching how they explode to create a warm cup of cocoa. With these DIY Valentine's Day bombs on hand, your day will be so much sweeter. A strawberry hot chocolate bomb, for instance, will turn the contents of your mug into a beautiful shade of pink, complete with Tiny Conversation Heart candies inside. Or, a heart-shaped hot chocolate bomb will bring on all the heart eyes. Whether you're making any of these DIY Valentine's Day hot chocolate bombs for you and your housemates, or as a gift for your special someone, your creations will be bursting with love.
Be sure to capture a video of your cocoa bomb spilling pink heart-shaped marshmallows into a mug on TikTok. When you post your creation with a hashtag #hotchocolatebomb, you'll certainly get lots of likes.