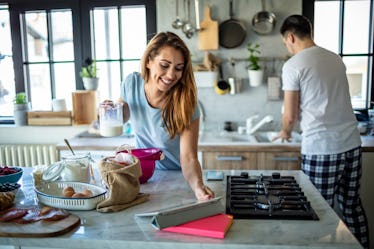 TikTok's Pancake-Covered Banana Trend Will Make Your Breakfast A Whole Lot Batter
MilosStankovic/E+/Getty Images
TikTok is constantly leveling up the breakfast game. Between the viral "nature's cereal" to the mini cereal trend, the social media app shares so many new ways to enjoy the first meal of the day, and one of its latest recipes is no exception. TikTok's pancake-covered banana bites are currently making waves on the internet, and it's about to make your morning meal a whole lot batter.
Instead of topping your pancakes with bananas as you may normally do, this recipe includes coating banana slices in pancake batter and frying them to create almost perfectly circular pancakes. Your pancakes will come out downright adorable since they're bite-sized. If being the cutest mini banana pancakes in TikTok history weren't enough, this recipe also ensures you get a mouthful of sweet fruit with every bite.
And the maple syrup on top? This banana pancake trend is a piece of, well, pancake, to pull off. You can elevate your breakfast and recreate this trend using your trusty pancake recipe. Or, try out one of these TikTokers' recipes and sprinkle some crushed Oreos or cinnamon oats into your batter. Either way, you'll flip out over how tasty these recipes can get without requiring much more time in the kitchen.