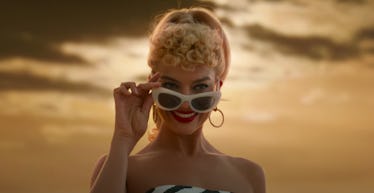 The First Footage From Barbie Is An Absolute Fever Dream
Warner Bros
It's a Barbie world and both Margot Robbie and Ryan Gosling are living in it. Mattel's Barbie is no stranger to the big screen — fans have previously seen Barbie and Ken in animated films like Barbie in the Nutcracker, Barbie as Rapunzel, Barbie of Swan Lake, and loads of other Mattel-produced movies. And let's not forget Barbie and Ken in the Toy Story franchise! But this live-action Barbie movie will finally bring the doll to life, so here's everything we know about its release date, cast, trailer, and other updates.
Robbie was announced to play the iconic doll in January 2019, and it was rumored that she was in the running for the role as early as October 2018. Almost two years later, Barbie finally found her Ken. According to Deadline, Gosling originally passed on the role due to scheduling, but now, with his schedule clear, he was able to sign on. With Gosling's track record of playing the onscreen boyfriend in The Notebook and Crazy, Stupid, Love, fans have no doubt that this casting decision was spot on.
Along with all that on-screen talent, Barbie is being directed by Lady Bird's Greta Gerwig. In addition to playing a character that has had over 200-plus careers since 1959, Robbie is also set to produce the film under LuckyChap Entertainment.
Let's take a rundown of what we know about the plastic... er, fantastic upcoming movie.
Barbie Cast
Robbie and Gosling will, of course, topline Barbie as everyone's favorite plastic lovebirds. The cast is rounded out by some other big names, including: America Ferrara, Simu Liu, Kate McKinnon, Emma Mackey, Issa Rae, Michael Cera, Ariana Greenblatt, Alexandra Shipp, Will Ferrell, Kingsley Ben-Adir, Rhea Perlman, Emerald Fennell, Ncuti Gatwa, Hari Nef, Sharon Rooney, Scott Evans, Ana Cruz Kayne, Connor Swindells, Ritu Arya, and Jamie Demetriou. None of these actors' roles have been confirmed yet, but Ferrell is reportedly playing the CEO of a toy company. Both Rae and Nef are rumored to play other versions of Barbie, while both Lio and Gatwa are rumored to play other versions of Ken.
Mackey's name stands out among the cast list as a particularly interesting casting choice. Ever since her breakout role on Netflix's Sex Education, Mackey has been constantly compared to Robbie by fans based on their uncanny resemblance. Although Mackey's role is not yet revealed, you can bet it will have something to do with her looking an awful lot like Robbie.
A May 19, 2022 IndieWire report revealed even more big names who are rumored to show up in Barbie. Pop star Dua Lipa, Bridgerton breakout Nicola Coughlan, and Gerwig's frequent collaborator Saoirse Ronan are all rumored to be part of the star-studded movie.
Barbie Plot
According to Barbie's IMDB's page, Barbie sounds like she will have some blond ambition and take on the "real world."
A doll living in Barbieland is expelled for not being perfect enough and sets off on an adventure in the real world.
Barbie Teaser & Trailer
Principal photography for Barbie began in the United Kingdom in March 2022 and wrapped in July. Fans have been waiting desperately for footage ever since then, and they were finally rewarded on Dec. 16, when Warner Bros. dropped a teaser for the film.
The teaser is... really something. In lieu of giving away anything about the plot, the one-minute video harkens back to an earlier time period, when kids only played with baby dolls — until, boom, a monolith of a vintage Barbie doll (Robbie) appears. It's all very 2001: A Space Odyssey. The teaser then cuts to brief clips of various, colorful scenes throughout the film — Robbie waves, Gosling looks ready to square up, and Liu dances.
Barbie Photos
Warner Bros. shared the first photo of Robbie as Barbie at CinemaCon on April 26, 2022. In the pic, Robbie's Barbie smiles while driving the doll's iconic pink convertible.
On June 15, Warner Bros. released the second photo from the movie, showing Gosling in character as Ken.
During filming in June, Robbie was spotted in her full Barbie get-up. The production photos show Robbie in head-to-toe hot pink, with her sparkly bellbottoms marching her vest. Of course, she's also rocking a long blonde wig to fully deliver the Barbie fantasy.
In late June 2022, fans were treated to tons of BTS pics of Robbie, Gosling, and even Gerwig working on set. Although most of them just show the actors talking in their fabulous costumes, some show the cast partaking in a classic Barbie activity: rollerblading. BRB while I grab my rollerblades buried deep in my closet to join them.
Absolutely obsessed with their matching outfits.
To commemorate filming on the movie wrapping in mid-July, Alexandra Shipp shared some sweet behind-the-scenes photos of the Barbie cast. The pics show various members of the ensemble cast palling around during a read-through, on a golf cart, and in a party bus.
Barbie Soundtrack
Unfortunately, the movie's soundtrack reportedly won't feature the one song everyone was hoping for. On April 29, 2022, Ulrich Møller-Jørgensen, who manages Aqua lead singer Lene Nystrøm, confirmed to Variety that Aqua's 1997 Europop hit "Barbie Girl" will not be featured in the movie. Although he didn't get into the reason for the exclusion, it's no secret that Mattel has a contentious history with Aqua — the toy company filed trademark infringement and defamation claims against the Danish band over the hit song, but both lawsuits were thrown out.
Barbie Release Date
Barbie will be driving into theaters on July 21, 2023.
This article was originally published on