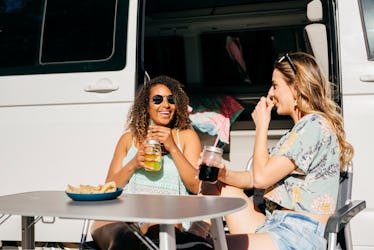 TikTok's Boat Dip Recipe Makes The Perfect Snack For Your Next Lake Day
Addictive Stock / Manuel Ruiz Alba/Addictive Stock/Getty Images
A day out on the water is already perfect with the sun and your friends by your side. The only thing that would make it even better is the right snack to enjoy when you're not tanning or tubing. Luckily, you can always turn to TikTok for the latest recipes for any occasion — even a sea day — and TikTok's boat dip recipe is just what you need for your next lake trip.
The latest viral food trend comes from TikToker @lnoden, who created this delicious dip with:
Sour cream
Shredded cheese
Diced tomatoes
Green chiles
Taco seasoning
Combined all together, it makes the perfect cheesy dip for whatever chips you want to bring along on the boat. Not only is it delicious, but it's easy to throw together at home. You could even prep some ahead of time and store it in your fridge for whenever your friends invite you out on the boat last minute.
It's called boat dip because TikToker @lnoden enjoys it out on the lake, but you can make boat dip for any summer activity you have planned. Make some TikTok boat dip for your next pool day, backyard barbecue, or even a romantic picnic date with your SO. It's so delicious that you'll be wanting to make it all summer long, just like these six TikTokers who have already tried the viral treat.
No matter what recipe you try, enjoy your dip with any chips or your choice of veggies. If you don't end up eating it all, it can easily be stored in your fridge for your next boat adventure as well. With a tasty dip like this, though, your friends will be ferry impressed and will shore-ly eat it all.