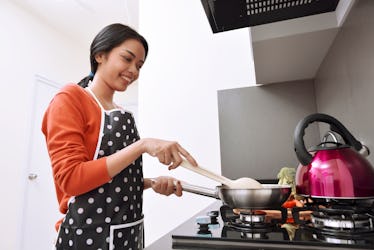 This Fun Way To Make Extra Crispy Brussels Sprouts Is Taking TikTok By Storm
Shutterstock
Fact: You could assemble an entire meal from the various TikTok trends that pop up on your "For You" page. Enjoy a baked feta pasta or braided salmon with a side of accordion potatoes, and for your veggies, you've got to try these smashed Brussels sprouts recipes on TikTok. While roasted Brussels sprouts tossed with olive oil and salt are delicious on their own, smashing them takes this dish to a whole new level.
The major difference between regular and smashed Brussels sprouts is that the smashed ones come out of the oven extra crispy. The flatter surface also allows you to really pile on the seasonings and toppings, like parmesan cheese and garlic powder. You have the opportunity to get super creative with your recipe by adding your favorite flavors and really making them your own. If you need a little inspiration to get started, you can always check out these seven smashed Brussels sprouts TikToks to see how other home chefs are making theirs.
Go for a sweet and spicy version with Sriracha and maple syrup or a refreshing version with a lemon yogurt dipping sauce on the side. If you can't decide which of these Brussels sprouts recipes to try, challenge yourself to make a new dish each day. Then you can have a TikTok-inspired meal — all week long.