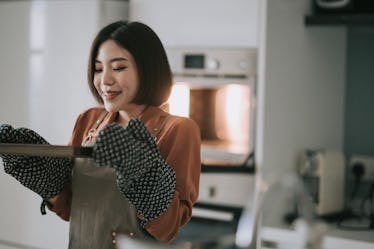 The Special Ingredient In This TikTok Brownie Recipe Makes It Perfect For Easter
A new brownie trend recently dropped online and it might just make you swap out your traditional recipe. This viral TikTok brownie recipe includes creme eggs for an Easter-inspired dessert with extra creamy bursts of chocolate in every bite. The added yolk-esque colors from inside of the creme eggs give the brownies a mesmerizing visual twist you can't help but want to sink your teeth into.
Watching this brownie getting whipped up in any TikTok video will make you instantly want to hop on this yummy trend. The best part: It's actually so easy. Simply add some creme eggs (liquid fondant dyed with food coloring to look like egg yolk) cut in half and a mix of dark and milk chocolate to your batter.
Once you get a taste for these eggy brownies, you'll be tempted to continue playing around with the recipe and adding other fun additions to your batter. Take a page from one TikToker and add some Easter egg chocolates or mini chocolate bunnies. Spoiler alert: The brownies come out with a crisp crust and a #thicc layer of fudge.
After you play around with your sweet treat, don't forget to show it off online. You may even hatch your own viral TikTok brownie recipe featuring your own hidden treasures inside.