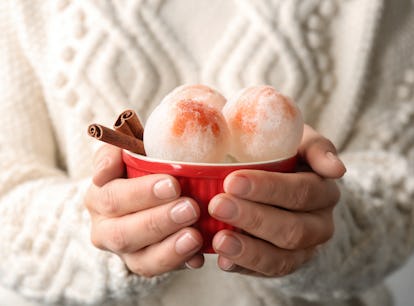 These Recipes For TikTok's Viral Snow Cream Are Snow Good
All you need are four ingredients.
Shutterstock
A fresh fall of snow could mean it's time to grab your sled for a fun day with your friends or a shovel to clear a path in your driveway. For many TikTokers, though, it seems a snowy day is also a good time to prepare a delicious at-home treat. You just need to know how to make TikTok's snow cream recipe to whip up the wintry magic in your own kitchen.
The simple recipe for homemade ice cream using fresh snow is currently trending on the video-sharing app as the winter season continues. For many people, snow cream is a fun treat they used to make as kids, so it's full of nostalgia and good memories. However, if you didn't grow up in a place where it snowed often, you may be new to snow cream in general. If it's currently a winter wonderland outside, this is the perfect opportunity to finally learn how how to make snow cream from TikTok to try for yourself.
Of course, as many TikTokers will warn you, eating actual snow can be tricky. You want fresh, clean snow, so it helps to collect it using a bowl you leave outside or scooping up a new layer that's not on the ground. If you are really worried about the safety of the snow in your backyard, you can always just make shaved ice as it's very similar and will give you the same snow cream taste. For people in warmer locations where a snowy winter is more a dream come true than a reality, shaved ice will need to be your go-to for your snow cream recipe as well.
Once you've got the fresh snow or shaved ice collected, you'll also need the following ingredients to make the snow cream recipe:
According to TikToker @kalireigh, all you need to do is stir those ingredients together in a bowl and you've got yourself some vanilla snow cream. Once you nail down the basic snow cream recipe, you may even want to get creative and try a few of these additional snow cream recipes from TikTok with different flavors and toppings.