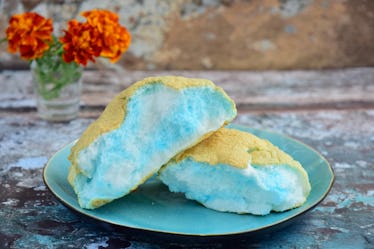 TikTokers Are Giving Cloud Bread A Sweet Upgrade With These Cloud Cake Recipes
Shutterstock
If you've been on TikTok since the beginning of the pandemic, you may remember when cloud bread was all over your "For You" page. It was at a time when everyone was making all kinds of bread, like banana and sourdough. However, cloud bread was different, because it was — as the name suggests — as fluffy as a cloud. However, some TikTokers complained that it wasn't as sweet as they would have liked. Enter, cloud cake. Now, people are sharing their cloud cake recipes on TikTok that take the OG cloud bread to a sweet new level.
At its core, cloud cake — or "clouds cake," depending on who you ask — is very similar to cloud bread. It's made the same way by whipping up some egg whites until they're as fluffy as can be, but what makes cloud cake so different is that it's meant to be sweeter. A lot of TikTokers are experimenting with the recipe to make chocolate, Oreo, and Funfetti versions of cloud cake that can be served at your next get-together or party.
The sweet and light treat that's currently trending has been compared to meringue and angel food cake, but it's actually more like the perfect combination of the two. It's not as dense as angel food cake, but it's more cake-like than meringue. You've just got to try it out for yourself, and these eight flavored cloud cake recipes on TikTok are a great place to start.