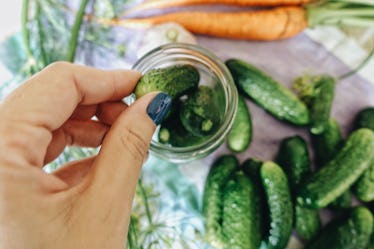 If You Loved TikTok's Viral Ranch Pickles, You Have To Try These Recipes Next
Monika Proc / FOAP/foap/Getty Images
TikTok is filled with trendy recipes, but none are as big of a dill as ranch pickles right now. This delicious snack — or lunch side, depending on how you like to enjoy your pickles — has taken over the internet and made traditional pickle lovers question everything they knew about the savory treat. You'll have to make TikTok's ranch pickles recipe for yourself to see what all of the hype is about, and then these other pickle recipes on TikTok that are so dill-icious, too.
Make the viral ranch pickles by following the OG video created by TikToker Jen Curley, otherwise known as @snackqween. Posted on April 22, 2021, the original video breaks down how to make the flavorful "dish" by adding ranch dressing seasoning to your favorite dill spears. Start by pouring the seasoning into the jar of pickles, then mixing it with the juice. Put the top of the jar back on before shaking the mixture.
From there, you'll want to put the jar in your refrigerator, and let it chill overnight. The next morning, your pickles should be ready to enjoy with a sandwich or completely solo. It's that simple, which is why you should dive into these other pickle recipes from TikTok afterward. They are just as flavor-packed, and clearly walked so the viral ranch pickles recipe could run.