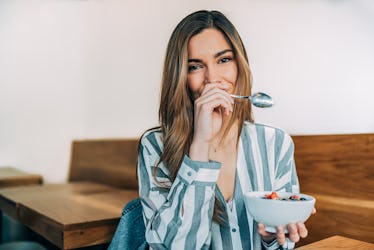 TikTokers (& Lizzo) Are Shook By This Viral Coconut Water-Filled "Cereal"
Shutterstock
When Lizzo tells you to try something, you know you've got to try it. The latest thing she's hyping as "good as hell" is the "nature's cereal" TikTok breakfast trend. You may have scrolled past the "nature's cereal" tag on your FYP by now, but if not, it breaks down to three very simple ingredients: your choice of fruit, coconut water, and ice cubes. Combined in a bowl, you get the most refreshing (and easy to make) cereal that has everyone raving.
While "nature's cereal" may sound like cold, watery fruit, tons of TikTokers are claiming it's so much more. Even Lizzo is singing its praises. But, of course, don't just take their word for it. Like baked feta pasta and braided salmon, this foodie trend needs to be (taste-)tested by you. Once you've gathered the proper ingredients, all you need to do is follow any of these six "nature's cereal" TikToks to know how to assemble it all together. You might even find some inspiration from these videos on how to take your so-called cereal to the next level with some Tajin seasoning or additional fruit. But whatever way you make it, record your very own TikTok video as you take your first bite. That way, you can add to the hype and let everyone know how you feel.