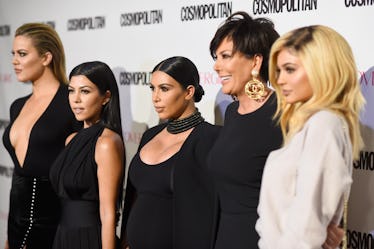 Here's What A Kardashian Did Every Day Of 2017, In Kase You Need To Katch Up
Frazer Harrison/Getty Images Entertainment/Getty Images
Say what you want about the Kardashian-Jenner family, but there's no denying these reality stars work. As 2017 comes to a close, it's a great time to look back and enjoy the best moments from our favorite family. Sit back and get ready to take in 365 things the Kardashians did in 2017:
1. Kim launched KKW Fragrance.
2. Kylie has stayed silent on pregnancy rumors.
3. Kourtney started dating male model, Younes Bendjima.
4. Kylie pulled some buns out of the oven.
5. Tristan Thompson threw Khloé an epic surprise party.
6. Kim announced she was expecting a baby via surrogate.
7. North West declared she wanted to start a YouTube channel.
8. Rob Kardashian posted revenge porn of Blac Chyna on Instagram.
9. Kylie launched a holiday makeup collection.
10. Khloé ignored pregnancy rumors.
11. Kim posed as Jackie O.
12. Kendall starred in a controversial Pepsi commercial.
13. Kim snacked on Sugar Bear Hair vitamins.
14. Keeping Up With The Kardashians celebrated 10 years on-air.
15. Kim had a gorgeous cherry blossom themed baby shower.
16. Khloé and Tristan dressed up as Khaleesi and Khal Drogo.
17. Kim answered Jennifer Lawrence's hilarious questions on Jimmy Kimmel Live.
18. Kylie opened Kylie Cosmetics storefronts in seven different TopShop stores around the country.
19. Kendall became the new face of La Perla.
20. Kourtney took a hike.
21. Scott touched Chantel Jeffries' butt in Cannes.
22. Khloé received a lot of white roses.
23. Kim posted a throwback photo with Paris Hilton.
24. Kylie went to the zoo with Jordyn Woods.
25. Kourtney lounged in the sun.
26. Kendall sat out of the Victoria's Secret Fashion Show.
27. Khloé and Kylie made a makeup YouTube video.
28. Kris Jenner went blonde.
29. Kendall became the highest paid model in the country.
30. Khloé kissed Tristan by the pool.
31. Kim dyed her hair blonde.
32. Khloé, Kourtney, Kim, Kylie, Kendall, and Kris were on the cover of The Hollywood Reporter.
33. An entire season of Life of Kylie aired on E!
34. Kim launched KKW Beauty.
35. Kendall posted black-and-white photographs on Instagram.
36. Kim ate ice cream.
37. Kourtney went to Egypt.
38. Kim showed off her abs.
39. Kylie started dating Travis Scott.
40. Scott went on trips with Sofia Richie.
41. Kendall was welcomed into the Adidas family.
42. Khloé went to a Cleveland Cavaliers game.
43. The Kardashians took a trip to Cleveland.
44. Kim introduced creme and powder contour kits to the world.
45. Khloé created the #GoodSquad with Good American.
46. Kylie wore Balmain.
47. Kourtney went on a jet ski.
48. Kendall showed off her butt at the Met Gala.
49. Kris got her grandkids holiday pajamas.
50. Kendall wore really small sunglasses.
51. Kylie graced the cover of GQ.
52. People thought Kim had drugs on her counter in the background of a Snapchat, but it turned out to be the pattern in the marble.
53. Kris rocked a two-piece swimsuit.
54. Khloé and Tristan did a couples workout.
55. Dream Kardashian had the most expressive eyebrows.
56. Kris promoted her kids on Instagram.
57. Kim dressed up as singer Selena Quintanilla for Halloween.
58. Kylie showed us her thigh scar on Instagram.
59. Khloé rocked her signature "snatched" ponytail.
60. Kylie hid from social media amid pregnancy rumors.
61. Kendall posed for Estée Lauder.
62. Kylie Cosmetics had a Black Friday sale.
63. KKW Beauty made us shimmer with Ultralight Beams powders and gloss.
64. Kris received balloons that said "Happy F*cking Birthday Mom" for her birthday.
65. Kourtney dressed up as Michael Jackson for Halloween.
66. Khloé looked gorgeous posing under cherry blossom trees at Kim's baby shower.
67. Kim wore a bra as a top.
68. Kris would not confirm or deny any pregnancy rumors about her daughters.
69. Kendall + Kylie dropped a new collection.
70. Kim properly taught us how to contour.
71. Khloé and Malika were BFF goals.
72. Kylie Cosmetics released a lip color called "Butternut."
73. Karla Kardashian (aka Ellen DeGeneres) announced she was pregnant.
74. Kendall + Kylie's vintage T-shirt collection made people mad.
75. Kylie posed in a giant button-down shirt.
76. Kendall was on the cover of Bazaar.
77. Kourtney and Kim took a walk on the beach.
78. Kendall went on Jimmy Kimmel Live.
79. Kourtney took her kids to Disneyland.
80. Kim appeared on the cover of Vogue Mexico.
81. Kendall showed us her everyday makeup routine via Vogue.
82. Kylie and Jordyn Woods flew on a private jet.
84. Kim posted her love to Cher.
85. Kendall rocked tiny sunglasses and giant hoop earrings.
86. Scott wore aviator sunglasses.
87. Kylie was called "million dollar baby" in WWD Magazine.
88. Kourtney went to Paris.
89. Kim posted a photo from her 2007 Playboy shoot.
90. Khloé posed topless for Good American.
91. Mason Disick read a Batman comic.
92. Kim and Michael Cheban (aka foodgod) dressed up as Sonny and Cher.
93. Scott Disick wore Supreme.
94. Kim posed naked in a tree.
95. Kylie and Jordyn wore matching swimsuits.
96. Kendall hung out with Cara Delevingne.
97. Kris went out to eat with the foodgod.
98. Scott went to Italy with Sofia Richie.
99. Kris posed in a sports bra.
100. Kylie wore heels with sweat pants.
101. Scott partied with Travis Scott.
102. Travis Scott and Kylie reportedly got matching tattoos.
103. Kylie admitted she hates butterflies.
104. Kendall rang in the New Year in a black slip dress.
105. Kourtney's kids won a unicorn at a carnival.
106. Scott rode a jetski.
107. Kendall posed in Calvin Klein underwear.
108. Khloé collaborated with Kylie Cosmetics.
109. Kim had a Cher-inspired photoshoot.
110. Kylie swatched makeup on Snapchat.
111. Kendall hung out with Tyler The Creator.
112. Kim opened up about the struggles of surrogacy.
113. Kylie sat in a fancy car.
114. Kim announced the gender of her third child on Ellen DeGeneres.
115. Kim says North would make a better President than Trump.
116. Scott was rumored to be dating Bella Thorne.
117. Kylie brought back camo print with items from Kylie Shop.
118. Kourtney and her kids had full Americana vibes over Fourth of July.
119. Kylie rocked a short, blonde bob at the Met Gala.
120. Kris promoted Flat Tummy Tea on Instagram.
121. Kourtney posted adorable photos of her kids.
122. Khloé posted a video of Ashley Graham wearing Good American.
123. Kylie went to Coachella.
124. Blac Chyna got a restraining order against Rob Kardashian.
125. Scott hung out with Steve Aoki.
126. Kanye carried a sleeping North.
127. Kris wore oversized sunglasses.
128. Khloé called someone "doll."
129. Kim ate churros.
130. Kylie wore a highlighter yellow wig.
131. Kris called Khloé "bunny."
132. Kourtney looked amazing in a swimsuit.
133. Scott and Kourtney went on a helicopter ride.
134. Kylie wore thigh-high purple boots before Demi Lovato did in "Sorry Not Sorry" music video.
135. Kendall attended the Cannes Film Festival.
136. Kylie posted a throwback photo of Rob.
137. Kourtney and Kendall danced drunk in a store.
138. Kylie had a surprise 20th birthday party.
139. Scott repped Balenciaga.
140. Kylie had an ice sculpture of her butt at her birthday party.
141. Kimoji had a sale.
142. Kourtney modeled her Pretty Little Thing collection.
143. Kylie claimed a paparazzi photo of her was photoshopped.
144. Dream had her first birthday.
145. Kris promoted Arthur George socks.
146. Kylie and Jordyn dressed up as fire and ice for Halloween.
147. Kendall spent time with Bella Hadid.
148. Khloé showed off glitzy jewelry on Instagram.
149. Scott and Sofia Richie went to Mexico.
150. Kourtney took selfies in bed.
151. Rob left the spotlight.
152. Kourtney showed off gluten-free baked goods.
153. Kim went on a run.
154. Kylie made a vegan dinner.
155. Kylie and Jordyn ate Dippin' Dots.
156. Kourtney went on an elliptical.
157. The Kardashians recreated the KUWTK Season 1 opener.
158. Khloé changed people's lives on Revenge Body.
159. Kendall posed in her underwear.
160. Khloé made a New Year's resolution for Kim.
161. Kylie cranked out more Kyshadow palettes than ever before.
162. KKW Fragrance had a Black Friday sale.
163. Kim threw a KKW Beauty launch party.
164. A$AP Rocky touched Kendall's butt at the Met Gala.
165. North wore slide sandals with fur on them.
166. People questioned if Kendall was dating Blake Griffin.
167. Kim got a spray tan.
168. Khloé consistently had the most organized closet, ever.
169. Kendall and Blake Griffin went to Malibu.
170. Kylie ran into Tyga at Coachella.
171. Kendall went to Coachella.
172. Scott went to a club.
173. Kim had a petting zoo in her backyard.
174. Kendall and A$AP Rocky went jewelry shopping.
175. Scott and Sofia received a "congratulations" cake.
176. Kourtney hosted an epic Halloween trick-or-treating event.
177. Rob turned 30.
178. Kim showed off her killer abs.
179. Kourtney wore cute exercise clothes.
180. Lamar Odom talked about Khloé being there after his overdose.
181. Rob wore a hat.
182. Khloé and Kylie showed they look a lot alike with blonde hair.
183. Kim hosted Chrissy Teigen at her Easter party.
184. Kylie wore uncomfortable looking shoes.
185. 2 Chainz attended a BBQ at Kim's house.
186. Kim covered herself in body glitter.
187. Kylie sent her sisters the Kylie Cosmetics holiday collection.
188. Kim's trainer looked bad AF on Snapchat while lifting weights.
189. Kim had rock candy cocktails at her KKW Beauty launch party.
190. Kylie wore a Christmas sweater.
191. Kim showed off Season 6 Yeezy.
192. Someone put Kris' face on a cookie.
193. Khloé unboxed Anastasia Beverly Hills makeup.
194. Kylie danced on Snapchat.
195. Kim had doughnuts in her house.
196. Kim received custom Alexander Wang clothing.
197. Kourtney watched Stranger Things.
198. Khloé went to Ohio.
199. Kourtney took her kids to church.
200. Reign and Penelope Disick Snapchatted.
201. North turned four.
202. Kourtney promoted Jaden Smith's Syre.
203. The Kardashian sisters bought Funyuns for a girls trip.
204. Khloé showed us that Evian spray is her travel essential.
205. Kylie ate pomegranate seeds.
206. Kourtney exercised with Younes Bendjima.
207. Scott and Sofia went on a boat together.
208. Dream had a very pink birthday cake.
209. Penelope wore sneakers with a dress.
210. Kim woke up super early to exercise.
211. Saint West got to meet Paw Patrol characters.
212. Khloé hung out with Steve Harvey.
213. Kylie spent time with her nieces and nephews.
214. Scott wore an expensive watch.
215. Kourtney posted a throwback photo of her grandmother.
216. Khloé went to Soulcycle.
217. Kylie hung out with her dogs.
218. Scott wore a sweatsuit.
219. Kim got a puppy for North.
220. North named her puppy "Sushi."
221. Kourtney and Younes Bendjima dressed up as Bonnie and Clyde for Halloween.
222. Scott got a haircut.
223. Penelope got a new puppy.
224. Penelope named her puppy "Honey."
225. North and Penelope had a joint birthday party.
226. Kourtney showed us the real way to rock a LBD (little black dress).
227. Khloé and Kourtney Snapchatted together.
228. Khloé did a photo shoot for Good American.
229. Kris talked on the phone a lot.
230. Khloé baked in the kitchen.
231. Khloé cheered on Tristan while courtside at his game.
232. People lined up to go to the Kylie Cosmetics pop-up shops.
233. Kim carried a purse that looked like a giant wad of cash.
234. Kris wore animal print.
235. Kim ate a salad.
236. Scott showed off his fancy cars.
237. Kendall asked people to donate to Charity Water for her birthday.
238. Kylie wore her purple lip kit and we're obsessed.
239. Kim took a photo blowing a kiss to the camera.
240. Khloé wore a gold face mask.
241. Kendall rocked a red lip.
242. Kris posted a throwback picture of herself and Kim.
242. Kourtney and Younes went to a concert.
243. Kimoji had an update.
244. Kim made a milkshake with vanilla ice cream and oreos.
245. Khloé posted a video of Tristan practicing on Snapchat.
246. Scott posted a black-and-white photo of himself.
247. Jen Atkin did Khloé's hair.
248. Kylie posted fan art of her and a little kid.
249. North and Penelope dressed in Moana costumes for their birthday.
250. Bella Thorne said her and Scott are "just homies."
251. Kourtney Snapchatted the Ghostbusters car in a driveway on Halloween.
252. Khloé wore a velour sweatsuit.
253. Kylie fed a giraffe.
254. Kourtney flew in a private jet.
255. Kendall went to a basketball game with Hailey Baldwin.
256. Kourtney dressed up as the Tin Man from Wizard of Oz.
257. Kendall wore a giant red ball gown for Estée Lauder.
258. Scott customized his bag to say "Lord."
259. Kim and Kourtney did lunges.
260. Kim admitted she looks at a poster of Khloé's butt when she squats.
261. Kourtney had needles rolled around on her face.
262. Kylie posed on a motorcycle.
263. Kourtney still didn't eat dairy.
264. Kim got a customized Judith Leiber bag that said "Saint."
265. Khloé launched a frame for Diff Eyewear.
266. Kendall and Kourtney wore matching outfits.
267. Kourtney wore over-the-knee boots.
268. Kim showed us her five-minute makeup application.
269. Khloé shared tips to get bikini ready in just one week on her app.
270. Kourtney shared gluten free recipes.
271. Kylie drank tea with Jordyn.
272. Kylie demonstrated how to apply eye shadow.
273. Kourtney shared a Thanksgiving mimosa recipe on her app.
274. Kendall hung out with Naomi Campbell.
275. Kylie Cosmetics celebrated their two-year birthday.
276. The Kardashian-Jenner sisters took a bathroom selfie at the Met Gala.
277. Kim shared her secret to keeping her email inbox at zero.
278. Kim admitted North has some sibling rivalry with Saint.
279. Kourtney posed like Victoria Beckham.
280. Kendall walked the runway in Cannes for Fashion For Relief.
281. Kim had strawberries on top of her birthday cake.
282. Khloé and Kim ate pizza.
283. Kim opened up about the struggles of surrogacy.
284. Kourtney cut her hair into a lob.
285. Scott admits he still loves Kourtney on the KUWTK 10-year reunion special.
286. Kris Jenner made an Instagram collage for Father's Day.
287. Kourtney and Kylie hung out in bikinis.
288. North and Penelope continue to be BFFs.
289. Kourtney reportedly went on a date with Diddy's son.
290. Khloé made Kim's trainer 30 minutes late.
291. Kourtney turned 38.
292. Kylie launched a new birthday makeup collection.
293. Scott posted a picture of his kiddos on the hood of a Mercedes.
294. Kourtney flaunted her bare butt.
295. Ellen DeGeneres grilled Kris about pregnancy rumors.
296. Khloé wore a blue dress.
297. Kourtney made a Valentine's Day gift guide that included a creepy doll.
298. Khloé was accused of posting a racist photo on Instagram.
299. Kourtney posted a sweet message to Penelope for her birthday.
300. Kim shut down rumors that she's having twins via surrogate.
301. Kourtney skinny-dipped for a shoot.
302. Kim says that she won't speak for anyone else except herself amid pregnancy rumors.
303. Khloé gave us more details about being in love with Tristan.
304. Kim took selfies with tons of beauty vloggers at her KKW Beauty launch party.
305. Blac Chyna went to the VMAs without Rob.
306. Kendall turned 22.
307. Kim was accused of posting a picture in blackface.
308. Khloé called out Kris on Instagram.
309. Kim drank a sardine shake instead of speaking about her sister's pregnancy rumors.
310. Rob defended his actions by saying, "I'm a savage."
311. Kim gave us all a meditation playlist on Spotify.
312. Khloé appeared on an episode of Hollywood Medium.
313. Kim wore the same Halloween costume as Demi Lovato.
314. Kendall and Kourtney went on The Ellen DeGeneres Show.
315. Kim and Beyoncé reunited.
316. Kendall and Kylie introduced us to their model cousin, Natalie Zettel.
317. Kim helped us learn what Oud smells like.
318. Kris loved Millie Bobby Brown's Kardashian impersonation.
319. Rob was linked romantically to Mehgan James.
320. Kim explained the inspiration behind the crystal bottle design for KKW Fragrance.
321. Rob took back all the cars he gave to Blac Chyna.
322. Kris Jenner texted her response about the pregnancy rumors to Ryan Seacrest.
323. Kim and Kanye were rumored to be the inspiration behind some tracks of Taylor Swift's Reputation album.
324. Kris said Kylie is "equipped to handle whatever comes her way."
325. Kendall starred in Fergie's "Enchante" Music Video.
326. Kim introduced us to ScreenShop.
327. Kendall rocked perfectly winged-out eyeliner.
328. People got mad at Kendall for using a fist bump emoji.
329. Kim hung out with Katy Perry.
330. Rob reportedly started counseling.
331. Kendall received backlash for supposedly not tipping a bartender.
332. Kim took her kids to a pumpkin patch.
333. Kim posted a photo with Kylie and Khloé with the caption, "The 3 of us..."
334. Fans thought Karlie Kloss posed with Kendall to throw shade at Taylor Swift.
335. Kim admitted that Kendall was never part of Taylor Swift's squad.
336. Kendall and Kylie threw a banger at Coachella.
337. Kendall and Bella Hadid had a "Wangover."
338. Kendall's Pepsi ad was parodied a lot on the internet.
339. Kim had a panic attack during an episode of KUWTK.
340. Diddy reportedly cropped Kendall and Kylie out of a photo.
341. Kendall rode on a jetski.
342. Kylie went on a boat.
343. Kris tried to make a Kardashian cartoon happen.
344. Kim blocked the snake emoji.
345. Kylie shared a picture of a pretty pink butterfly ring on Instagram.
346. We learned how Kanye and Travis Scott actually know each other.
347. People think North was wearing a corset and it turned out to definitely not be.
348. Kylie and Travis Scott make us feel weird in "Sheer."
349. Kris posted a touching tribute to her late husband, Robert Kardashian.
350. Kim posted her first selfie of 2017 with Kris.
351. Khloé wore a leather skirt.
352. Kim did her best impression of Kourtney for Ellen DeGeneres.
353. Kris finally explained why Kanye met with Donald Trump.
354. Kylie and Jordyn Woods tried on lipsticks in a YouTube video.
355. Khloé wore a Givenchy T-shirt.
356. Kris collected her 10 percent agent fee (I'm assuming).
357. Kris wore a Jennifer Lopez-inspired dress while covering the Oscars.
358. Kim and Kanye looked chic out in public together.
359. Kourtney was sarcastic.
360. Khloé enjoyed a delicious ice cream.
361. Kim and North went to Dylan's Candy Bar in NYC.
362. Kylie and Travis Scott went to a basketball game together.
363. Kim received matching sneakers for her kids.
364. Kim used the flower crown Snapchat filter.
365. Kylie perfectly applied liquid lipstick during a Snapchat.
There you have it — 365 Kardashian-Jenner moments from 2017. Time sure flies when you're having fun. Now it's time to get ready for 2018, dolls.
Check out the entire Gen Why series and other videos on Facebook and the Bustle app across Apple TV, Roku, and Amazon Fire TV.